Opens in a new window
Opens an external site
Opens an external site in a new window
National Learn to Code Day Takes Place on September 22nd, 2018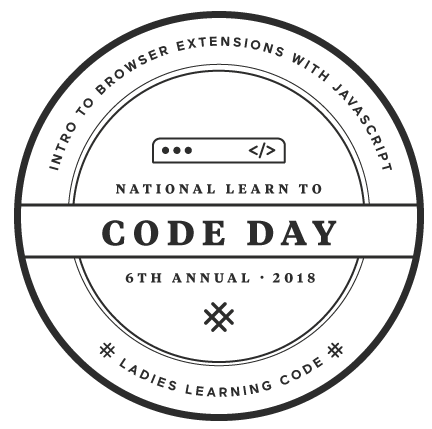 [Monday, September 17th, 2018]— Ladies Learning Code is tackling the gender gap by hosting the sixth annual National Learn to Code Day on September 22 all across Canada. The annual Ladies Learning Code marquee initiative teaches women leading-edge digital skills in hands-on, beginner-friendly workshops so they can learn the skills needed to thrive in our increasingly digital world.
With the support of Accenture and TELUS Digital, National Learn to Code Day workshops will focus on building browser extensions with JavaScript in 30 communities from coast-to-coast. This year Ladies Learning Code is proud to be offering the ability to take part remotely via livestream, with dedicated instructors to answer questions in both French and English.
"If you're wondering if participating is for you, the answer is yes! The community of mentors and learners offers an empowering environment for women to learn the skills important for success in the 21st-century economy." said Melissa Sariffodeen, Canada Learning Code's CEO. "Taking part in National Learn to Code Day is a great way to begin your digital journey to be able to understand and create, not just consume technology."
Since its inception in 2011, Ladies Learning Code has hosted more than 2,000 workshops and events, and reached more than 70,000 learners across the country.
"TELUS Digital is thrilled to host National Learn to Code Day two years running. Not only are we a proud, longstanding partner of Canada Learning Code, but we're committed to driving digital literacy for women and  underrepresented groups in the tech space." Joanna Carson, TELUS Digital
"At Accenture, we are always looking towards the future and improving the way the world works and lives, which means equipping our future workforce with valuable skills to thrive in the digital age," said Deborah Swartz, Accenture Canada's Corporate Citizenship Lead. "We are proud to sponsor Ladies Learning Code and National Learn to Code Day."
Find a workshop in a city near you by or sign up to take part in a livestream by visiting our website at learntocodeday.com
About Canada Learning Code
Canada Learning Code is Canada's leading national charity championing digital literacy education. Placing a special emphasis on women, girls, people with disabilities, Indigenous youth and newcomers, Canada Learning Code is proud to work from coast to coast to make sure that all Canadians have access to the knowledge they need to prosper in our digital world.
Originally founded as Ladies Learning Code in 2011, the organization has evolved to run programming for adults, youth and educators through programs Ladies, Girls, Kids, Teens and Teachers Learning Code. Today, Canada Learning Code operates in over 35 communities across the country, driving results through program design and delivery, strategic industry and public partnerships, research and advocacy. To date, the organization has reached over 90,000 learners through an in-person experience.
About Ladies Learning Code
Our Ladies Learning Code program offers female-identified and male-identified, trans, and non-binary adults hands-on, project-based learning experiences that are designed to give beginners the skills and confidence they need to become digital creators. Ladies Learning Code programs tackle the tech gender gap one positive, empowering learning experience at a time.
About National Learn to Code Day
This national day of learning and advocacy brings together over 1500 learners every September in 30+ communities across the country for simultaneous coding workshops. National Learn to Code Day promotes digital literacy while helping Canadian women gain important 21st century skills.
Jamie Ellerton, Conaptus
press@canadalearningcode.ca
Website: learntocodeday.com
Twitter: @learningcode  | Facebook: https://www.facebook.com/canadalearningcode