Opens in a new window
Opens an external site
Opens an external site in a new window
National Girls Learning Code Week: Envisioning a Better Future in Virtual Reality (VR)
In 2020, our first-ever virtual National Girls Learning Code Day was a huge success… so this year we decided to make it a week! From May 16th to 22nd, we celebrated our eighth annual National Girls Learning Code Week, a week dedicated to empowering children – specifically, girls, transgender and beyond binary kids – from coast-to-coast-to-coast to create a better future and build their confidence when using digital tools.
Since only 23% of workers in the computer science field are women, we set out to create more allies and better equip girls, transgender and beyond binary kids to enter and thrive in the tech space. Our goal is to build a future where diversity, inclusion and equity run deep in the tech space. A future where new technologies are developed based on different experiences. A future where we're creating solutions that are inclusive and accessible.
Our theme this year was "Envisioning a Better Future in Virtual Reality (VR)" – we used VR to tackle issues that arise as a result of COVID-19. During the week, hundreds of educators across Canada joined us in teaching computer science in their classrooms. We developed exclusive training resources and prep materials (available on our newly launched online Learning Tool) where educators can learn and gain confidence to teach new computer science skills.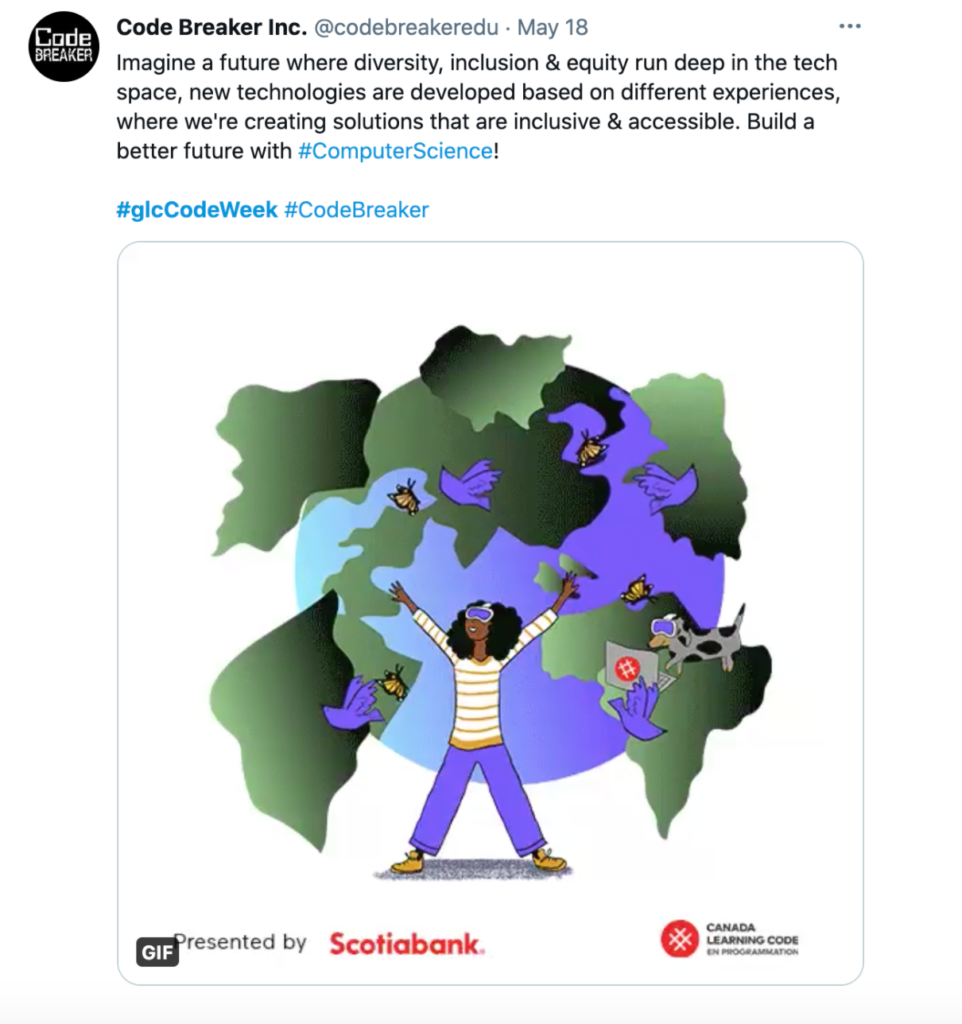 On May 22nd, we had 500+ learners tune in from eight different provinces to participate in 34 GLC Week interactive digital events!  For our young learners, we created two brand new workshops:  "Creating a Virtual Reality (VR) Prototype For Good" and "Creating and Coding in CoSpaces" to help girls, transgender and beyond binary kids envision a better future in Virtual Reality (VR).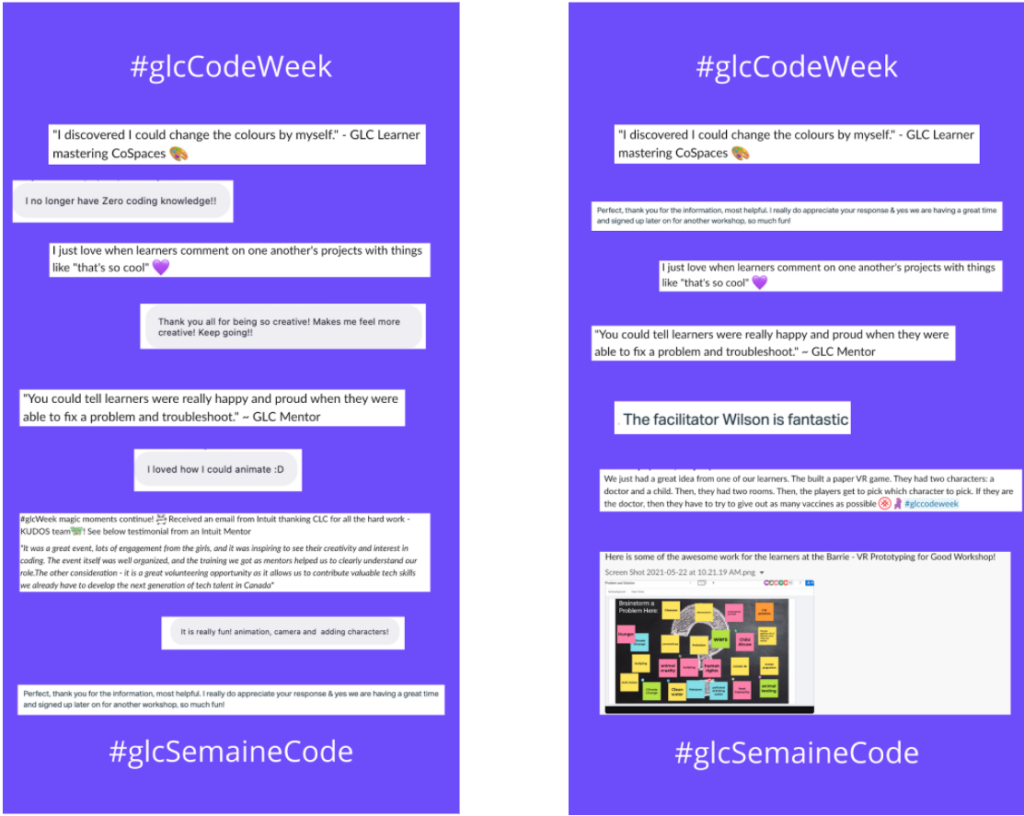 Our hashtags, #glcCodeWeek and #glcsemainecode, had over 4M impressions!
There were so many magic moments like learners wanting to create a better future for us by helping other kids not be scared of the COVID-19 vaccine and to find a clean energy source to power houses. We also love seeing learners comment on one another's projects with things like "That's so cool!".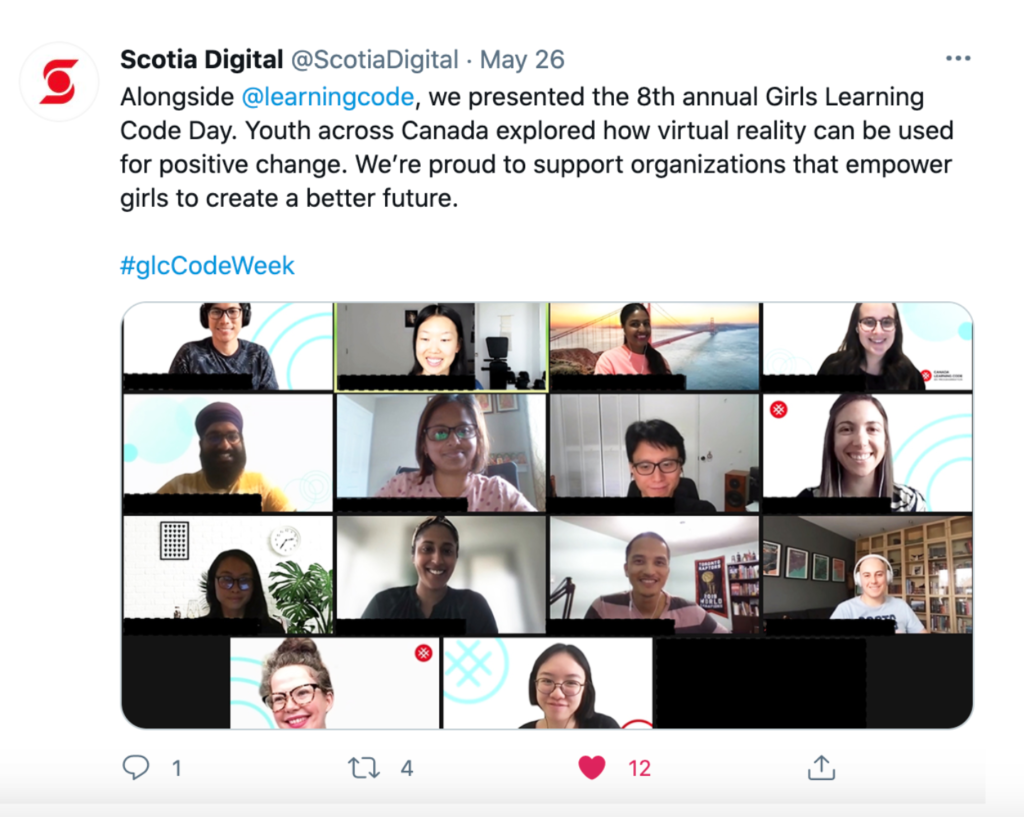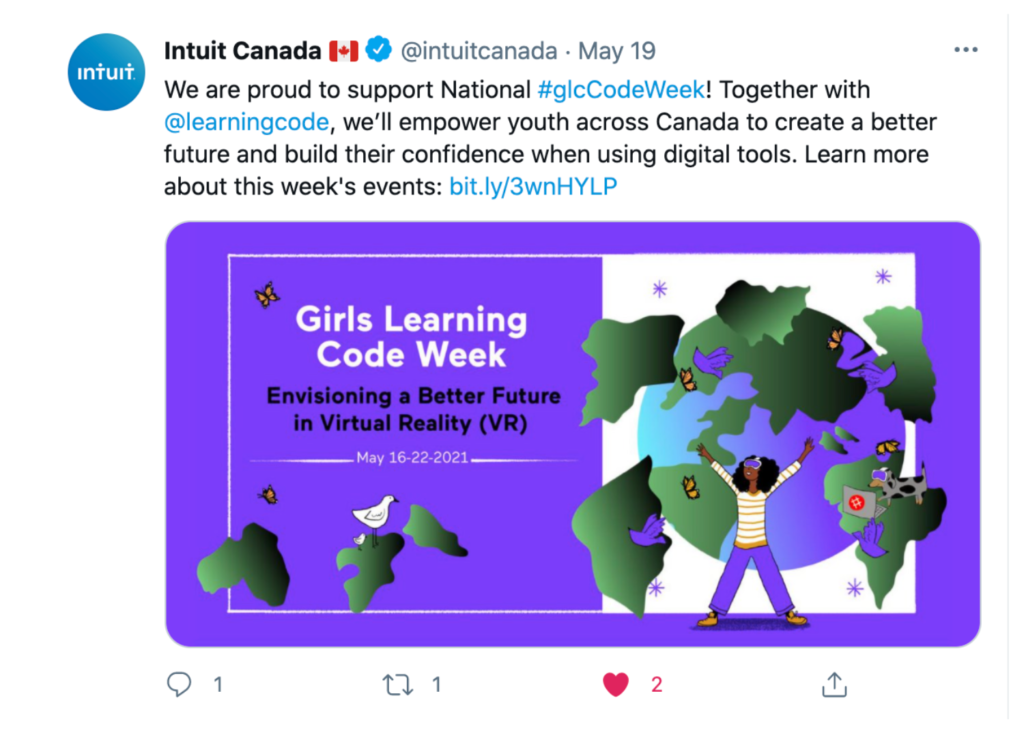 Shout out to our amazing partners at Scotiabank, Intuit Canada and Fortinet for supporting our #glcCodeWeek! You helped to empower hundreds of girls, transgender and beyond gender binary kids coast-to-coast-to-coast build confidence through digital tools while having fun!
Huge thank you to the 60+ wonderful mentors who joined us to help bring the week to life! Without the dedication of our enthusiastic volunteers, National Girls Learning Code Week just wouldn't be the same!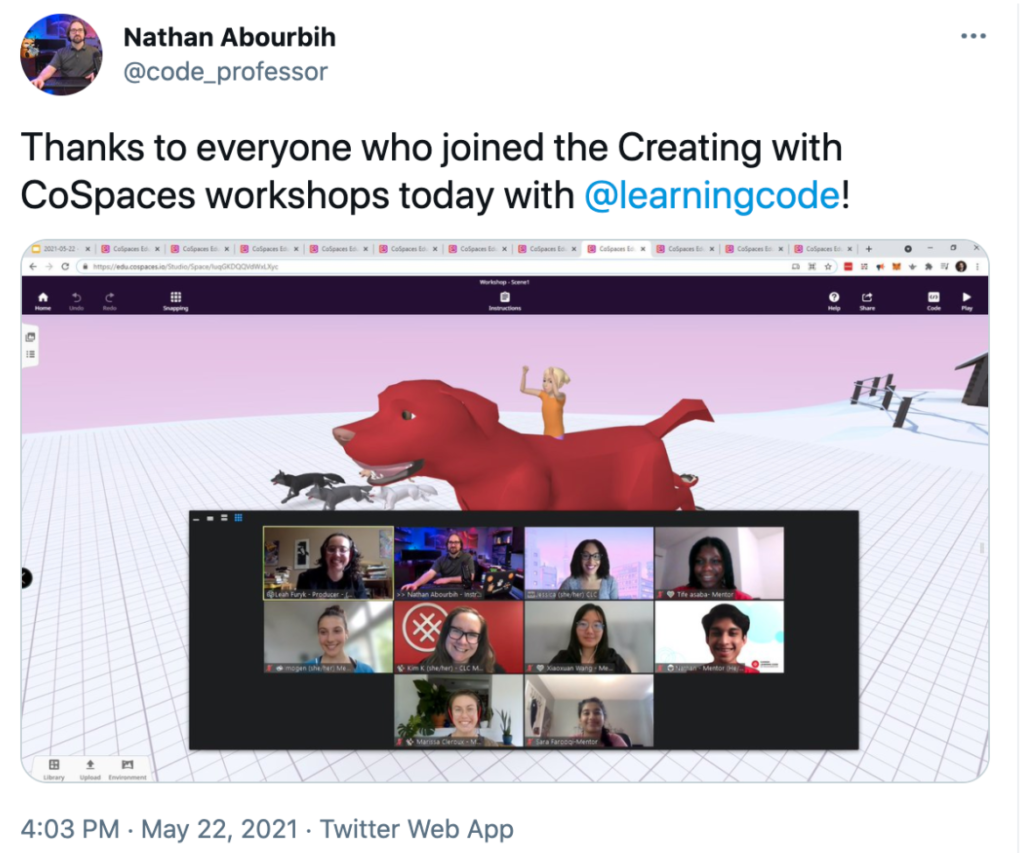 A round of applause to educators across Canada, who joined our #glcCodeWeek and brought computer science to hundreds of learners in their classrooms.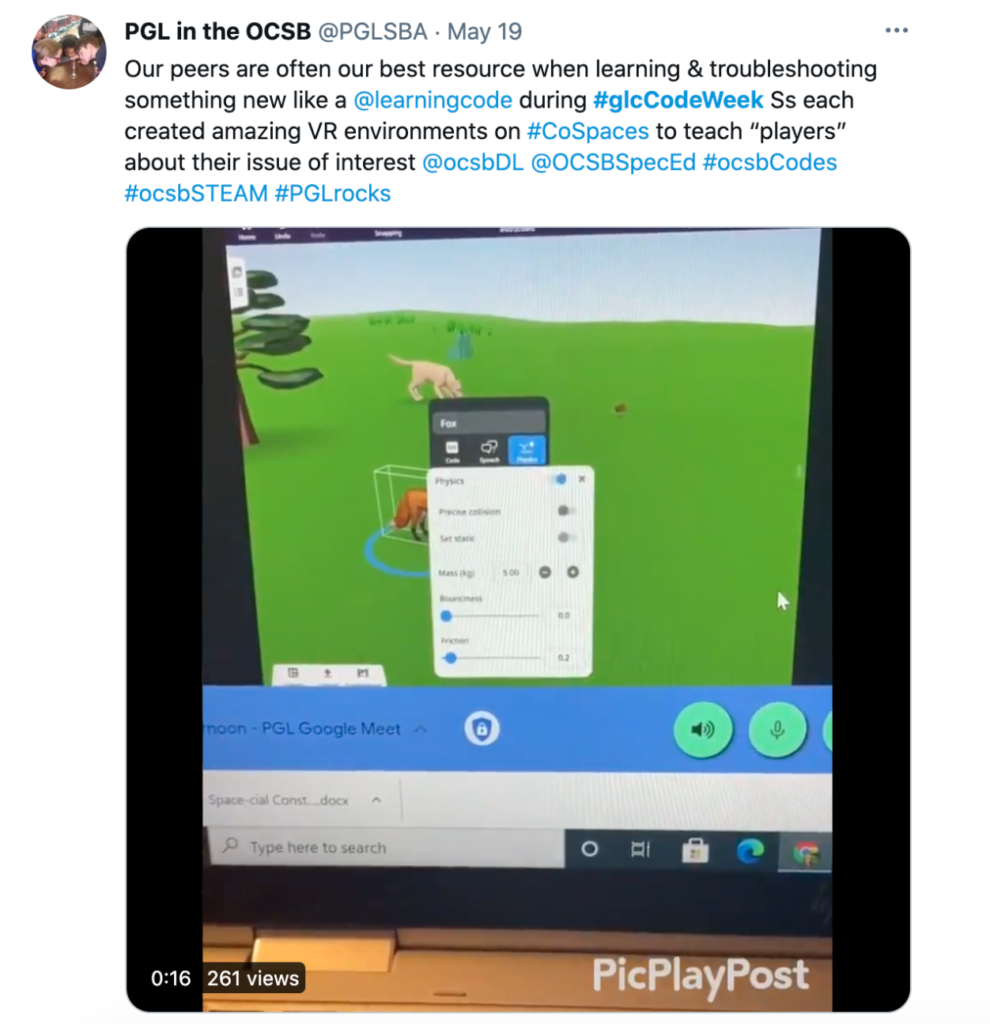 And finally, a special, massive, Canada Learning Code thank you to our incredible learners AND their parents/guardians! Thanks for making this another great #glcCodeWeek for the books!
Didn't get a chance to join us for National Girls Learning Code Week? Sign up for our mailing list to be the first to know when new workshops become available, like this one! You can also check out our experiences page to see what's currently available. We hope to see you online soon!
Pssst… educators, our popular TeacherCon, a multi-day conference experience for educators in the Canadian school system, is back this Summer! Since 2018, TeacherCon has provided thousands of educators with lesson plans, guidelines and fun ways to introduce coding into the classroom. Sign up to our mailing list to hear first when registration opens in July!
Other Great Reads
Are you unsure about how to teach kids coding or where to begin? We understand the amount of preparation and stress it takes to prepare a computer science...

Learning about how Google autocomplete predictions work with our partner, Bluetrain We encounter this every day — we search for something on search e...

In 2022, we took a step back in consideration of what Canada Learning Code Week means to teachers and students around the country. We wondered: if student...