Opens in a new window
Opens an external site
Opens an external site in a new window
Get to Know Teen Learner, Sophia!
Sophia is a bright, articulate, and driven grade 12 student from Winnipeg, Manitoba, who has a strong passion for tech. She's involved in several clubs at school, such as activism-focused Voices of Change, Habitat for Humanity, and the Girls in Tech committee. Outside of school, she volunteers for an organization called CanU Canada, teaching kids between 5 and 10 how to code. She's excited to graduate this year and begin her post-secondary journey at the University of Toronto this fall.
We sat down with Sophia to learn more about her experiences as a teen learner with Canada Learning Code.
What do you love about coding?
I love the flexibility. In coding, there is never only one way to do something and I love that. There are so many ways to think about a problem and so many approaches you can take to address it. It reminds me a lot of math and I am a math person!
How did you find out about Canada Learning Code?
I was 15 and interested in software development. I'd already taken a lot of computer science courses at my school, and I felt like I had reached a plateau. I wanted to learn more than what I was getting in school. I started working with a mentor that I met through CanU Canada, and she suggested I take a data science workshop at CLC, which I thought was really cool. I didn't realize it when I registered, but it was an adult workshop and I was one of the youngest ones there!
Tell us more about that first workshop …
Well, I had a lot of experience with Python [a programming language] already, so the workshop may have been a bit easier for me than some of the other participants. But I got to talk to a lot of different people and the volunteer mentors. And the workshop volunteers were amazing — they kept giving me harder challenges to do. I ended up learning so much more than I thought I would. When I finished the workshop, I remember feeling this amazing sense of fulfillment.
What was your favourite part of that first Canada Learning Code workshop?
Definitely the people! At first, I was really intimidated at being in a workshop with a bunch of adults. But honestly, they made me feel so at ease. I felt really comfortable asking questions and asking for help … and for more challenges. I really think it was because of how comfortable everyone made me feel that I got as much as I did out of the workshop.
What other workshops have you taken with Canada Learning Code?
I took another workshop on UI [user interface] and UX [user experience] design. I was really curious because I had seen UI and UX hashtags on Instagram but didn't really know much about it. Then all of a sudden, I got an email from CLC about a workshop that focused on UX design. I wasn't really sure what user experience designing was, but through the workshop, I learned so much about how to develop programs and software. For example, I learned how to build apps by first drawing things out; that way, you can start to see what your app will look like and make sure it's user friendly.
You are also a CLC Teen Ambassador. Tell us a bit more about that.
I was looking for opportunities to get as involved in the tech industry as possible, so I applied to the Teen Ambassador Program and became an Ambassador in the fall of 2019. For me, being a Teen Ambassador isn't just about immersing myself in coding, it's also about sharing my passion for coding and my knowledge with others.
As Ambassadors, we were planning a three-part workshop for students in grades 7 to 10 to learn about hacking as well as web and game development. We really wanted to expose participants to a wider array of what they could do with tech. Unfortunately, the workshop has been postponed [due to the COVID 19 outbreak] but I've really loved the process of planning the workshops and meetups. It's also been an amazing opportunity for me to network with representatives from the University of Manitoba and others who work in the tech field.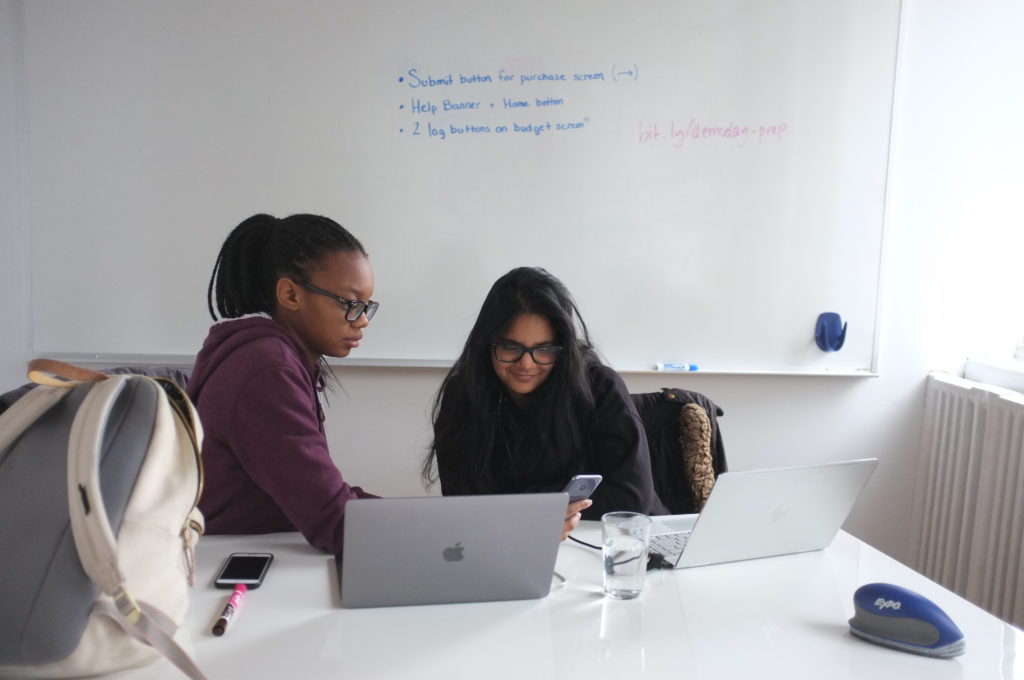 Tell us about your favourite coding project …
I am really passionate about using code for good, and so I want to create a place for other teens to find information about coping with stress and anxiety. I am writing the code to build a mental health website to support youth. It's the first website that I'm doing entirely on my own, not for someone else or for a grade. It's also the first time I've had the chance to really explore the potential to use coding in this way.
Growing up, did you face any challenges because of your interest in tech?
YES, 100%! I remember in grade 10, there was a fifty-fifty split between girls and boys in my computer class, but by grade 11, only about one-third of the class were girls. Then, by grade 12, there were only four of us. I remember discussing how girls feel more discouraged in STEM fields in one of our Girls in Tech committee meetings. I feel like this is something we need to talk about more, because I know a lot of my friends dropped out of STEM courses, even though they were really good at them. I know that they felt discouraged. We need to stop telling girls to shy away from STEM!
For me, I wanted to quit many times, too, because I didn't fit in with the demographic due to my gender and my race. Even my teacher made me feel like I should quit. I had to do a lot of work on my own, outside of school. This helped me walk into class feeling confident and ready. This is also why I have mentors. My mentors have always been women, which is so helpful to me. They remind me that I can do it and support me when I am feeling discouraged or doubtful. I am also so thankful for my parents' support and encouragement in helping me keep at it.
How do you think being involved with Canada Learning Code has helped shape your future?
I was very confused and uncertain about how I could use tech to help people and what that would look like. I feel like being involved with CLC and being part of the entire experience has really helped me discover that there are so many ways to use tech to benefit humanity. It taught me how tech can be used as a platform for good. It's also helped shape what I want to explore in university.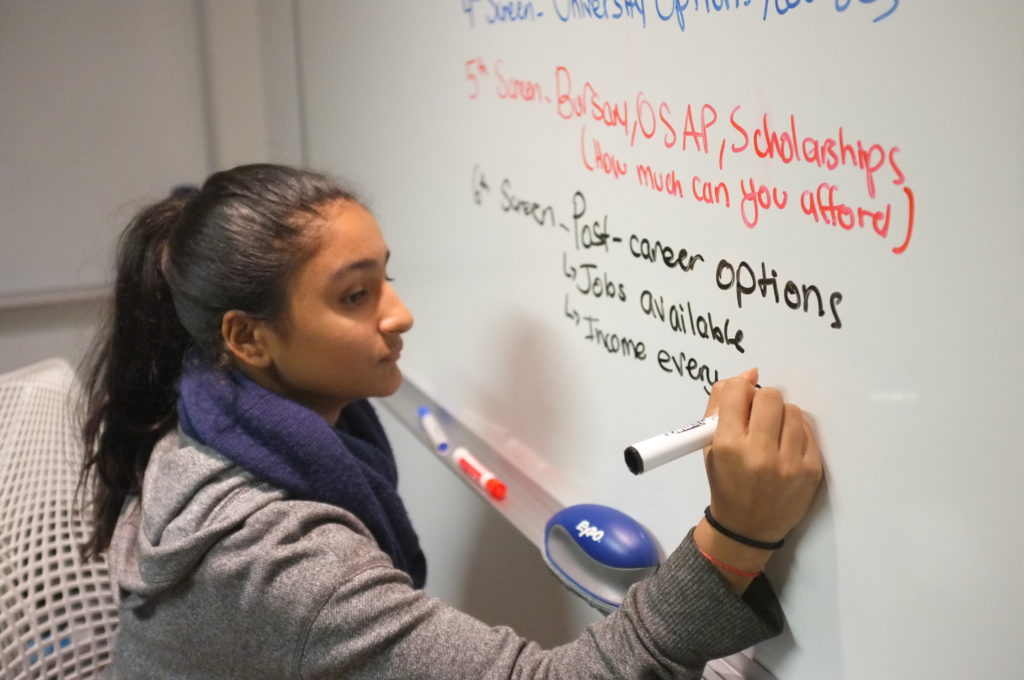 What will you be studying in university?
I am going to major in computer science. I want to go into artificial intelligence [AI] but that's just where I am right now. I might change my mind. I am really interested in self-driving cars. One of the reasons I really want to go into AI and machine learning, though, is to make sure that tech being developed is inclusive. I remember reading an article about an automatic soap dispenser that didn't recognize different skin tones because the people who programmed it didn't test it on a diversity of people.
"I feel like there's nothing I would rather do than computer science!"
Lighting Round
Favourite subject in school: Math
PC or Mac: Mac—100%
The app you use the most: Spotify, to listen to music
Favourite social media platform: Instagram
Favourite tech gadget that isn't a phone: Laptop. I use it more than my phone!
Favourite thing to do with friends: Go for bubble tea
At Canada Learning Code, we are so proud of Sohpia and excited for her future as she continues an exciting journey in the world of STEM. We couldn't have done this without the generous support from our friends at RBC Foundation and Future Launch. With their commitment to our Teens Learning Code programs, we'll continue to spark learners, like Sophia, to see themselves and creators of technology.
Other Great Reads
Are you unsure about how to teach kids coding or where to begin? We understand the amount of preparation and stress it takes to prepare a computer science...

Learning about how Google autocomplete predictions work with our partner, Bluetrain We encounter this every day — we search for something on search e...

In 2022, we took a step back in consideration of what Canada Learning Code Week means to teachers and students around the country. We wondered: if student...