Opens in a new window
Opens an external site
Opens an external site in a new window
This month, April, is all about well-being
Let's start off with an important question: how are we feeling today?
Health and well-being includes self-esteem, happiness, vitality, calmness, optimism, self-awareness, self-acceptance, self-worth and the ability to initiate, develop and sustain relationships. It impacts our personal and professional relationships, our productivity at work and in school and how we experience the world every day.  
We'd like to challenge you to pause, reflect and learn about the significance of health and well-being and your everyday lives, how we can better manage it and how we might be able to promote the importance of it to others.

How to participate this month:
As you learn about and develop a fluency on digital tools and programming languages, we would like for you to explore the topic of health and well-being and the role it plays within yourself, your family, your friends and your communities.
Anything goes. We'll leave this up to you – but thinking about emotional, mental and physical health might be a great starting point!
Teachers: we'd love for you to participate in this as well! Check out our teacher resources, select a lesson plan and challenge your students to create their projects around this theme. We love using "How might we….?" statements – to help encourage the creative problem solving process.
For example, how might we….
Support our family members, friends or employees on their health well-being?   

Better prioritize our own mental, emotional and physical health and well-being?

Help a classmate out who might be feeling sad, lonely or upset?

Promote physical health with an accessibility and inclusivity lens?

Help minimize any stigmas associated with health and well-being?    
Here are some digital project ideas:
Share your favourite tools and tactics on a website that helps you to manage your emotional, mental or physical well-being

Design a graphic that might help someone feel better when they are unwell

Create a relaxing and calming video game or interactive artwork that is designed to help others minimize stress and anxiety levels

Create an interactive story on the benefits of being psychologically healthy

Create a blog on de-stressing to share simple and accessible activities others can take part in to help them cope through their most stressful days  

Develop a website sharing your findings on well-being and some amazing resources you've come across along the way
We will leave your digital project up to you – and welcome you to be as imaginative and inventive as you like!
Share your digital projects with us!


Share photos, screenshots or videos of your digital projects you've started using the #clcCode4Change hashtag! We want to see what you end up creating. Remember that learning something new is a work-in-progress. We hope you continue to work on the project you've started with us – beyond the classroom!  
Get inspired!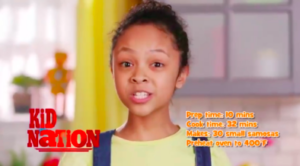 Learn about Kid Tech Nation – a fun digital resource to bring to youth across Canada the importance of healthy eating and the love of food.
Learn about how League uses digital tools to help companies prioritize health and well-being for their employees.
Some additional resources that you might find helpful: