Opens in a new window
Opens an external site
Opens an external site in a new window
#CLCCodeWeek – Most Innovative Project Award Winners
We were just blown away with all of the submissions to our Canada Learning Code Week Most Innovative Project Contest, presented by Amazon's Future Engineer Program! Take a look at some of our award-winning projects!
From Mme. Kendrick's class at St. Peter's School in Unity, Saskatchwan
Working with our Self-Driving Car lesson, students built their own racing games using Scratch, flexing their problem solving skills and working together to overcome challenges. Give their game a try here.
From Mrs. Holloway's 7th grade class at David Leeder Middle School in Mississauga, Ontario
Using our "Alexa, how might we…?" lesson, students came up with solutions to helping young people find jobs that match their interests using AI. Take a look at how they formed problem statements and worked together to build interesting solutions.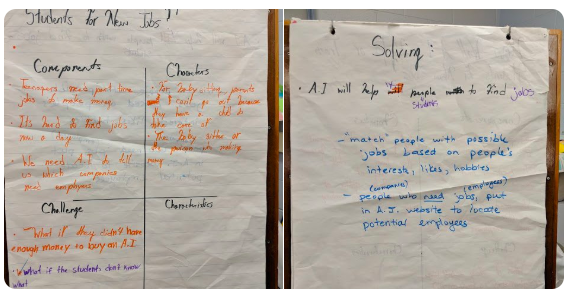 From Mr. Hennigar's class at BLT Senior Elementary School in Timberlea, Nova Scotia
While exploring our Self Driving Cars lesson, a student in Mr. Hennigar's class took her place in the driver's seat – helping her classmates understand how the sensor code worked, and how they could make additions/changes to customize the car's program. Take a look here.
These are just some of the incredible entries we received and all of the projects we saw shared over social media during #CLCCodeWeek. Thanks to the over 1800 educators and 88,800 students who brought code into their classrooms and communities (and a special thank you to Amazon's Future Engineer Program for making this contest possible)!

Other Great Reads
Are you unsure about how to teach kids coding or where to begin? We understand the amount of preparation and stress it takes to prepare a computer science...

Learning about how Google autocomplete predictions work with our partner, Bluetrain We encounter this every day — we search for something on search e...

In 2022, we took a step back in consideration of what Canada Learning Code Week means to teachers and students around the country. We wondered: if student...