Opens in a new window
Opens an external site
Opens an external site in a new window
Last year we hosted our first-ever virtual TeacherCon, and we've received a lot of positive feedback from those that attended. This year, we decided to make our multi-day conference for educators in the Canadian school system even better by partnering with Accelevents, our virtual conference platform, and creating our Learning Tool: a space to find preperatory work and hands-on learning during the conference!
From August 17th to 19th, we met virtually with hundreds of teachers across Canada to help them confidently teach computer science in their classroom or extracurricular program.
TeacherCon 2021 highlights: 
Our CEO, Melissa Sariffodeen, welcomed teachers to the week on the Accelevents conference platform.
We developed exclusive training resources and prep materials (available on our newly launched online Learning Tool along with conference recordings).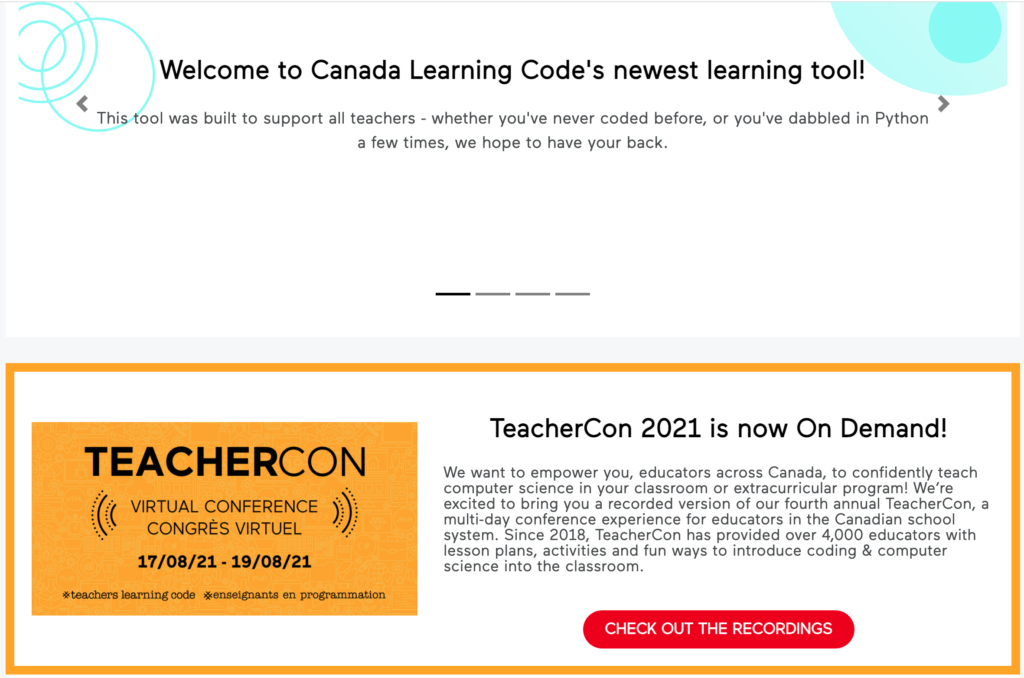 Eddy Robinson, Indengious Speaker, Consultant, Educator and Author, opened TeacherCon 2021 with "Indigenous Ways of Knowing" session.
1,300+ educators joined us for daily keynote sessions, webinars and workshops.
Our amazing presenters and partners at Pinnguaq, Kids Code Jeunesse, InkSmith, Texas Instruments, École en réseau (ÉER), Bootstrap and Amazon Future Engineer Canada hosted their daily webinars and workshops.
Canada Learning Code Teen Ambassadors, educators and speakers from Amazon Future Engineer Canada, Diversity Institute, Kid Tech Nation, First Nations Tech Council, Toronto Council Fire Native Cultural Centre participated in daily sessions and panel discussions.
Dr. Jody Carrington, Renowned Psychologist and Bestselling Author of "Kids These Days", closed the conference with the wrap-up session for educators.
We connected with incredible individuals who wanted to equip themselves – and the youth in their lives – with the tools and resources they need to prosper in our digital world!
There were so many magic moments like this…
…and this…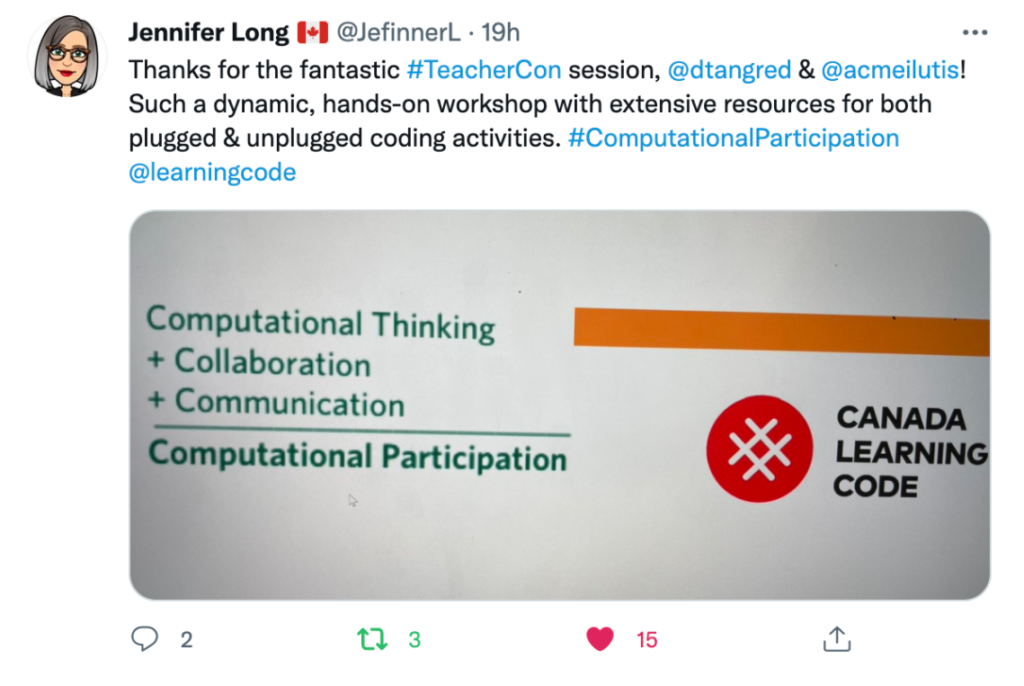 …and this…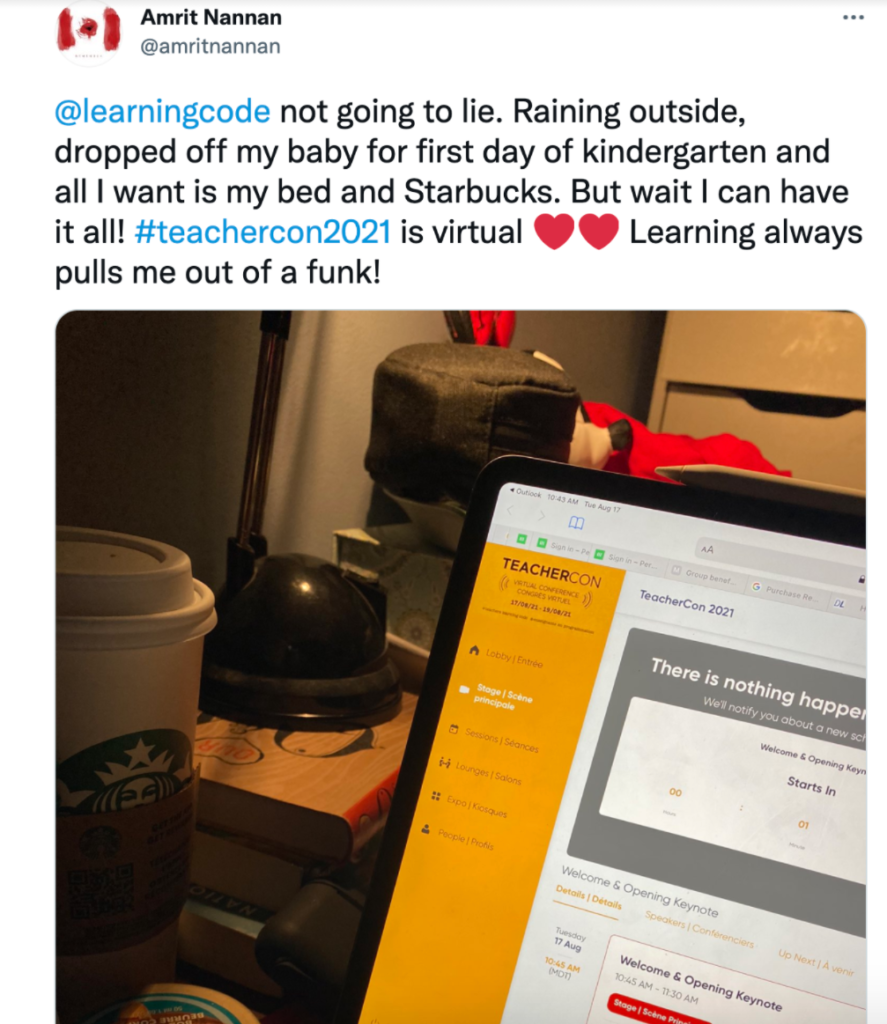 …and this…
…and so many more!

Shout out to our amazing partners, presenters and speakers! You helped to empower hundreds of educators coast-to-coast-to-coast to build confidence through digital tools and bring computer science to hundreds of learners in their classrooms.
Huge thank you to our incredible mentors and instructors who joined us to help bring the week to life! Without your dedication and enthusiasm, our TeacherCon wouldn't be possible!
A round of applause to educators across Canada, who joined our conference! Thanks for making this another great #TeacherCon for the books!
Didn't get a chance to join us for TeacherCon this year? Sign up for our mailing list to be the first to know when new learning opportunities become available, like this one! You can also check out our experiences page to see what workshops are currently available. We hope to see you online soon!
Other Great Reads
Are you unsure about how to teach kids coding or where to begin? We understand the amount of preparation and stress it takes to prepare a computer science...

Learning about how Google autocomplete predictions work with our partner, Bluetrain We encounter this every day — we search for something on search e...

In 2022, we took a step back in consideration of what Canada Learning Code Week means to teachers and students around the country. We wondered: if student...