Opens in a new window
Opens an external site
Opens an external site in a new window
Staying Connected With the Help of Technology… and ICEBREAKERS!
Working remotely is becoming the new normal for many and as we continue to spend more time in front of screens, connecting with each is something we're craving more and more.
Together, we can harness the power technology to continue connectedness with one another during these times. Video calls, for example, are great for spending time together while social distancing. They can be tricky – technical difficulties, lack of "water-cooler" conversation starters, daily updates start to all sound the same, the list goes on.
That's why we've put together a list of fun icebreakers to kick off or re-energize your video calls – whether it's with friends, family or coworkers. It's no secret that we kick off all of our learning experiences (and now, remote meetings too!) with an icebreaker or two. Here are some of our favourite tried and true icebreakers!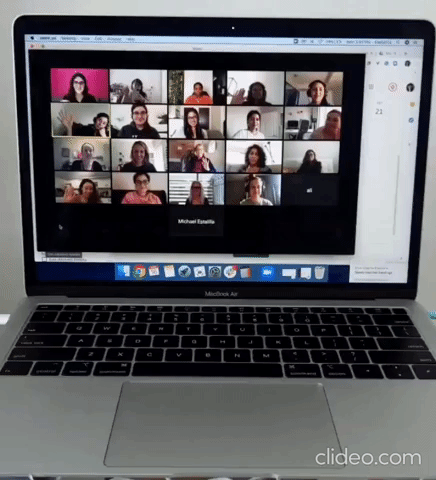 Buzz in!
This is a really fun one to test your groups' knowledge on a topic.
How it works: create a deck with questions that you'll show during the game using the screen-share function. After presenting the question to the group, players can "buzz in" by answering in the chat section of the call. You can choose if misspelled words are acceptable!
At Canada Learning Code – we had a great time seeing who could buzz in first when answering "What kind of Scratch block is this?"
Scavenger Hunt
This indoor scavenger hunt will get you up and moving – something we all need since we're typically sitting most hours of the day.
How it works: think about some simple item descriptions and let your participants get creative! Here are some ideas to get you started: green and fuzzy (e.g. scrunchie, blanket, stuffed toy), blue and hard (recycling bin, IKEA bag, backpack) or grey and shiny (e.g. fridge, laptop, pencil holder).
6 Word Memoir
This is a really fun way for your group to get creative and really get to know each other's stories or fondest memories.
How it works: have your group write down, in six words, their life story. Share the sentence with each other and have other group members ask questions. For example, "Coffee is the key to success" could describe someone who isn't a morning person and needs coffee to kick start their day!
Guess the Song
Music is a beautiful way for us to connect… and compete!
How it works: Mix it up! Whether it's something from the 80s, pop or dance beats, have your group guess what song you've selected. If you're looking at really obscure songs, encourage the use of digital resources like a Google search or an app like Shazam!
Follow The Leader: Stretches Edition
It's easy to fall into a routine and completely forget to get up and stretch.
How it works: each participant chooses their favourite stretch and leads it. If there are fewer participants, increase the number of stretches each person gets to lead!
Other Great Reads
Are you unsure about how to teach kids coding or where to begin? We understand the amount of preparation and stress it takes to prepare a computer science...

Learning about how Google autocomplete predictions work with our partner, Bluetrain We encounter this every day — we search for something on search e...

In 2022, we took a step back in consideration of what Canada Learning Code Week means to teachers and students around the country. We wondered: if student...