Opens in a new window
Opens an external site
Opens an external site in a new window
Representation Matters: Why Teaching Coding as a Black Woman is So Important
My parents immigrated to Canada from Haiti years before I was born. Long before the Internet was around, or thousands of jobs in the tech industry were created and the disparity between men and women in STEM was talked about as an issue. Both my mother and father came to Canada with the wild dream of giving themselves and their family a better life and better opportunities. They were the definition of two brave people who left everything and everyone they knew behind to go to an unknown land and live a new life. When you really think about it, it sounds really daunting , but that's the story of thousands of people in Canada, and I'm proud that it's part of my own history.
Representation Matters
Growing up, my parents didn't give me many career choices. Not because they didn't believe in me, but because when you immigrate to another country and experience adversity, you really want your children to be successful and financially secure in their own futures. My mom, who's a fabulous nurse, obviously tried to steer my sisters and I towards that career path while my dad encouraged me to go into law because I loved getting into arguments (mainly against my sisters). Although these are all great career choices — not only was programming an obscure field to them, but outside of that — I've personally never been exposed to anything related to programming.
As unfortunate as this is, I do not blame my parents. Up until a few years ago, I didn't know many women in this field, let alone any black women. For black folks and people of colour, the idea of working in a field where no other people look like you makes the glass ceiling feel much higher. While women make up a small percentage of the tech workforce, black women hold a much smaller space in those statistics. We could name a list of reasons for this injustice, but it all comes down to systematic discrimination and practices that discourage people of colour — and mainly black women and girls — to view themselves as leaders in tech and take their place in this industry.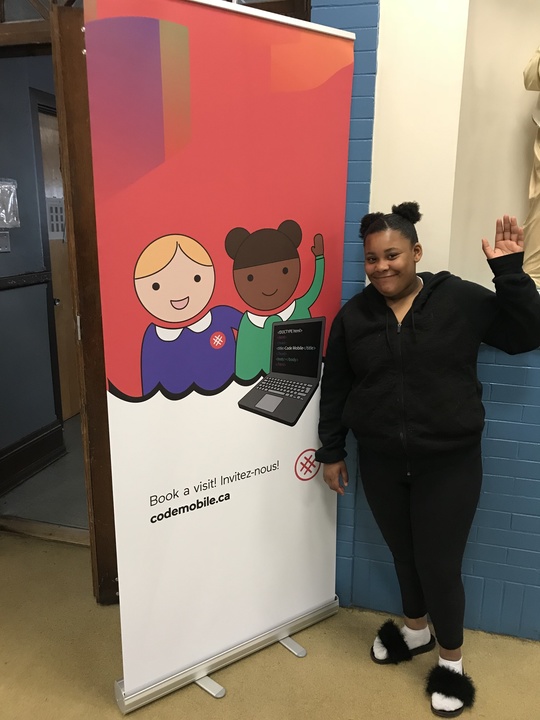 When it was time to choose a university program and eventually a career, I chose to go into translation where 90 percent of the students were women. Although it was only a tiny group of us that were black, it was still easy to see myself in this field because…representation! But after my first year in university and my first introduction to coding, I knew I had no intention of working as a translator. Fast forward to years later, with black women working and thriving in the tech industry like Takara Small and Aminka Belvitt, I now know where my place is.
Whenever people of colour experience injustice, the responsibility falls on us to take action. So when I started my journey on the Code Mobile, I knew my responsibilities would have to go beyond teaching code — I would become the representation in tech that I was searching for all those years.
Technology as a Tool of Empowerment
What drew me to Canada Learning Code is the way that they view coding and technology as a tool of empowerment. I am constantly reminded of this truth when I see Black Twitter denouncing yet another injustice and creating hashtags like #BlackLivesMatter and #YouOkSis.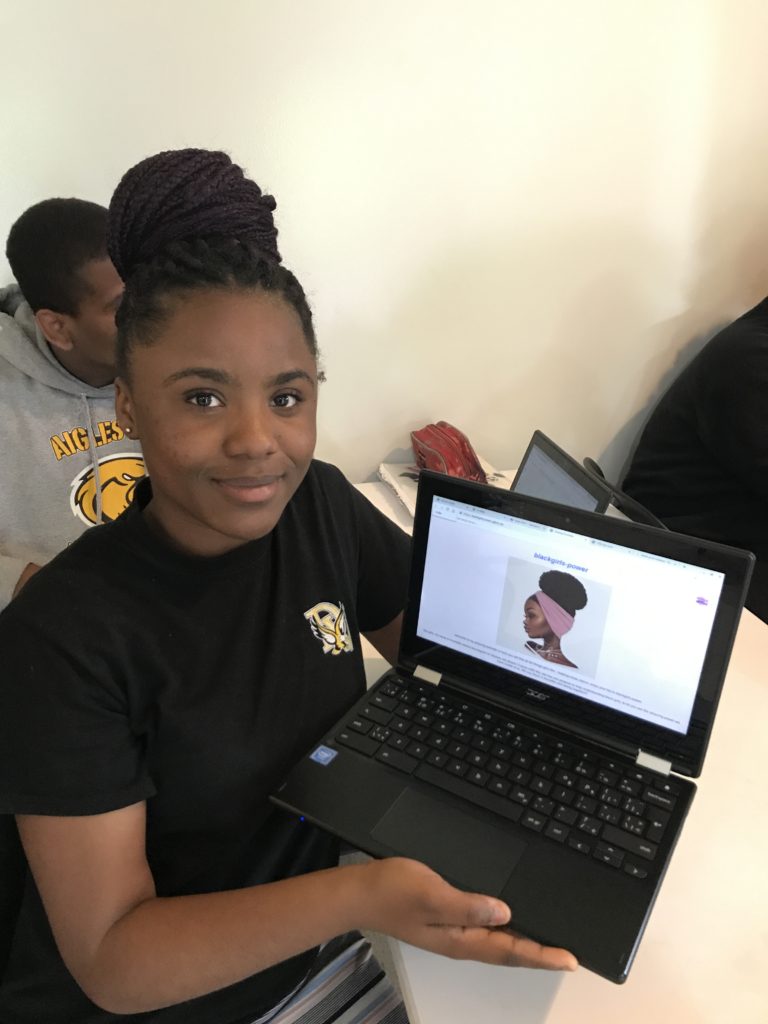 On many of our visits, we've had the pleasure of teaching or mentoring young black girls whose first introduction to code was with the Code Mobile. By the end of our workshops, they would end up creating beautiful websites about Black Girl Magic, African hairstyles, self-love and acceptance. How gratifying to see these young women not only understand and enjoy coding, but take that opportunity to empower themselves and their community!
On the other side, it's no secret that technology has also been used as a tool for discrimination and hate. For example, when we look at AI facial recognition software that either cannot recognize black faces or misidentifies them as opposed to non-minority faces, it is clear that systemic racism has been embedded into these technologies. There is no better reason why more folks of colour — particularly women — need to be leaders in the tech industry so that we see less and less biases transpire when building software, and during hiring processes.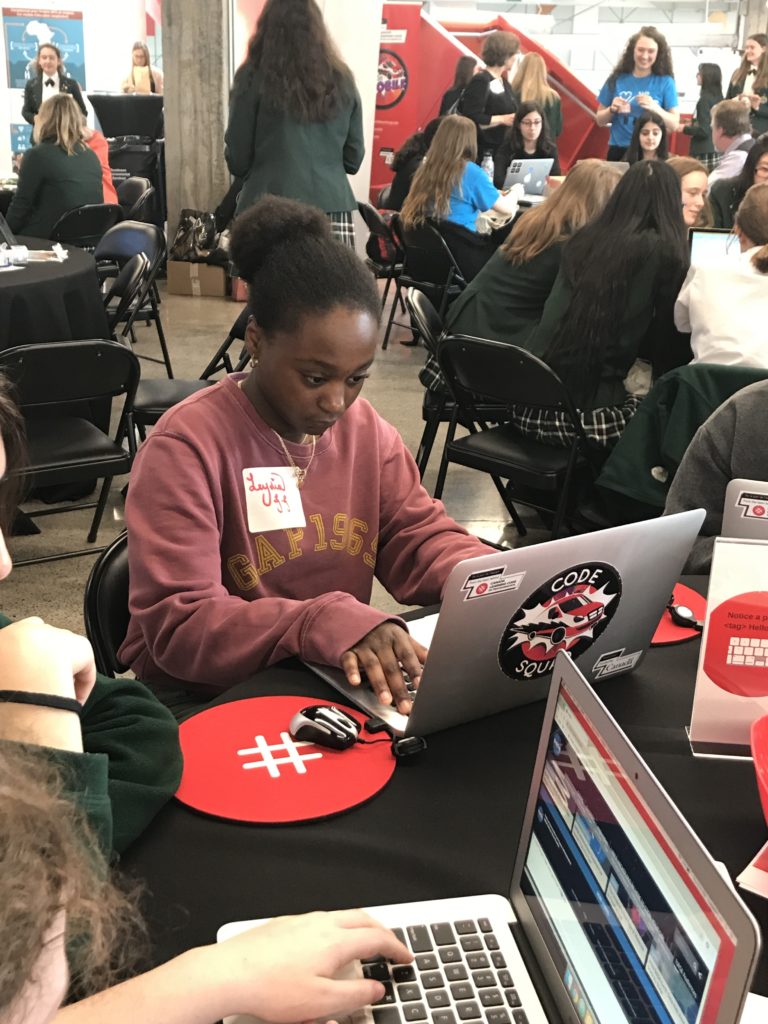 Today, I may only be just another teacher to these kids, but one day, whenever someone tells a black girl that instead of going into STEM she should reach for a more "attainable" career, she'll remember this one black teacher with big hair and big earrings who taught her how to create a game on Scratch or helped her create a webpage using code. And I'm hoping that she'll remember that magical moment when she made it all happen by herself and that she will see herself either take a seat at a table or create her own.
If you're interested in learning more about the Code Mobile or would like to request a visit for your community, head to our website www.codemobile.ca! We deliver workshops to youth, teens, teachers, and adults, so there's something for everyone looking to develop their digital literacy.

Guest blog by Jayne, Montreal Code Mobile Communications Lead. Jayne has been with Canada Learning since 2018! She's a passionate, enthusiastic and a force of nature in the tech education space.

Other Great Reads
Are you unsure about how to teach kids coding or where to begin? We understand the amount of preparation and stress it takes to prepare a computer science...

Learning about how Google autocomplete predictions work with our partner, Bluetrain We encounter this every day — we search for something on search e...

In 2022, we took a step back in consideration of what Canada Learning Code Week means to teachers and students around the country. We wondered: if student...