Opens in a new window
Opens an external site
Opens an external site in a new window
National Ladies Learning Code Day: Unlocking Digital Opportunities
Kishawna Peck's opening remarks at Ladies Learning Code Day 2021 started by reminding the learners in attendance why tech needs them: "Only 15% of data professionals today are women, and 1 in 3 women have contemplated downsizing or leaving the workplace since the pandemic."

"I was not supposed to be here," Kishawna continued, before explaining her journey from being "told not to take any more math" by a grade 11 teacher, to ultimately founding and serving as the Executive Director of Toronto Womxn in Data Science, a community for womxn in STEM that provides mentorship, education and advancement to women in the tech industry.

Kishawn's talk kicked off the day's workshops (on either Managing Data with SQL or Intro to Social Media Marketing), and helped us to understand how upping our technology know-how isn't just about coding. She passionately explained: "you don't necessarily have to be technical in order to be in this space," since "being data literate is about understanding the ins and outs of different data products that you use, and the different ethical issues around data."
All learners had an opportunity to take part in either workshop on November 6th, with additional sessions taking place the following week.
Here's what learners had to say:
"As a sixty something out of work transgender woman I am struggling to figure out how to re-engage in the tech market. I am inspired by the things that I heard so far!"
"I remember starting in the tech world 25 plus years ago and being one of the few females at tech conferences. I love how Women have exploded in this world. Women power rules!" 
"When women like you [Kishawna Peck, Toronto Womxn in Data Science Executive Director and Ladies Learning Code Day Keynote Speaker] dig your heels in those kinds of environments are why events like these exist!!!"
"That was the inspiration I've been needing lately, thank you so much Kishawna!"
National Ladies Learning Code Day 2021 highlights:
Kishawna Peck, Toronto Womxn in Data Science Executive Director, opened #llcCodeDay with an inspiring keynote session.
Over 800 learners joined us for the sessions, virtual booths and live online workshops on November 6, followed by 160+ learners joining us during the week
Our amazing partners at Alacrity Academy, Datacan, General Assembly, Juno College, Le Wagon and Lighthouse Labs hosted their virtual booths from bootcamps all across Canada to showcase where National Ladies Learning Code Day participants can take your learning next (after the event, learners also got special discounts and offers from the booths partners)
We're so glad that our learners showed up with energy and amazing questions, and enjoyed the day.


Shout out to our amazing partners and speakers! You helped to empower hundreds of learners coast-to-coast-to-coast to build confidence through digital tools! Thank you for also supporting us as mentors and sharing your expertise at #llcCodeDay!
A round of applause to our incredible mentors and instructors! You are essential to the success of our mission at Canada Learning Code! Thank you for your dedication!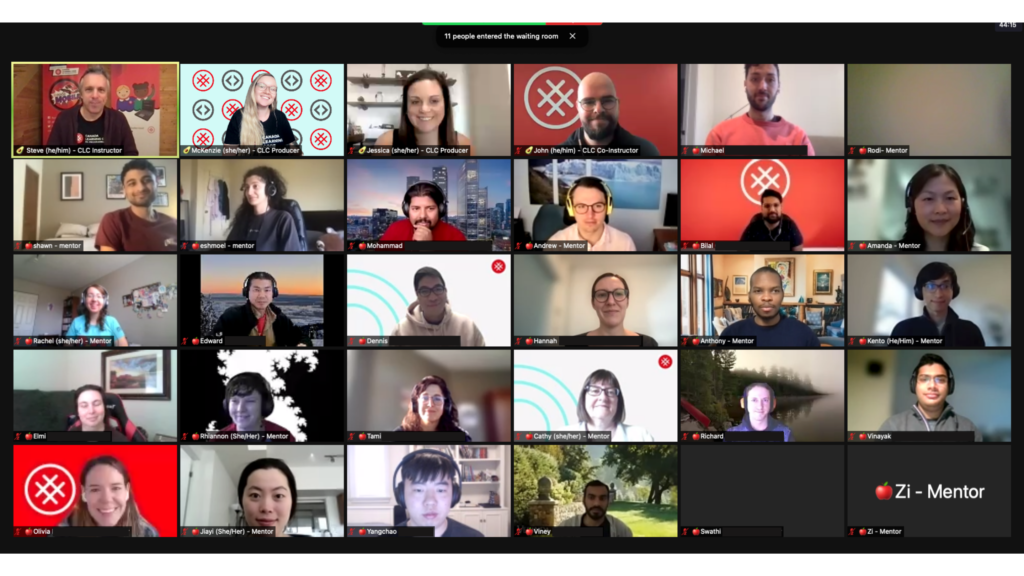 And, of course, a huge thank you to our incredible learners! Thanks for making this another great National Ladies Learning Code Day for the books!

Didn't get a chance to join us for National Ladies Learning Code Day this year? Sign up for our mailing list to be the first to know when new learning opportunities for adults become available. You can also check out our experiences page to see what workshops are currently available. We hope to see you online soon!
Other Great Reads
Are you unsure about how to teach kids coding or where to begin? We understand the amount of preparation and stress it takes to prepare a computer science...

Learning about how Google autocomplete predictions work with our partner, Bluetrain We encounter this every day — we search for something on search e...

In 2022, we took a step back in consideration of what Canada Learning Code Week means to teachers and students around the country. We wondered: if student...