Opens in a new window
Opens an external site
Opens an external site in a new window
Learning how to code is fun for the whole family!
Our experiences are social and collaborative because learning with others is fun and making new connections can be so rewarding! We encourage our learners to connect with each other throughout the experience and especially in smaller groups during breakout sessions. Something we weren't expecting? THREE learners in the same household, each a different age! Meet Amrit, a learner who we met at a live online Ladies Learning Code workshop: Generative Art with Processing.
Tell us a little bit about yourself and your family.
I am a middle school teacher living with a middle school teacher raising a middle school student and a four year old. My husband and I both are passionate about our jobs and our second love is hockey.
Is this your first time coding? How about your kids?
This is not the first time I have coded. I received a textbook (yes, back in the day when you had to read physical books to figure out how technology worked!) many moons ago on how to code a video game but my computer was not equipped for this level of coding. So, I carried it with me throughout my 10 year career as a teacher. My daughter and I have been taking full advantage of the Canada Learning Code classes for the last year and half after stumbling upon it during my research for coding activities for my classroom.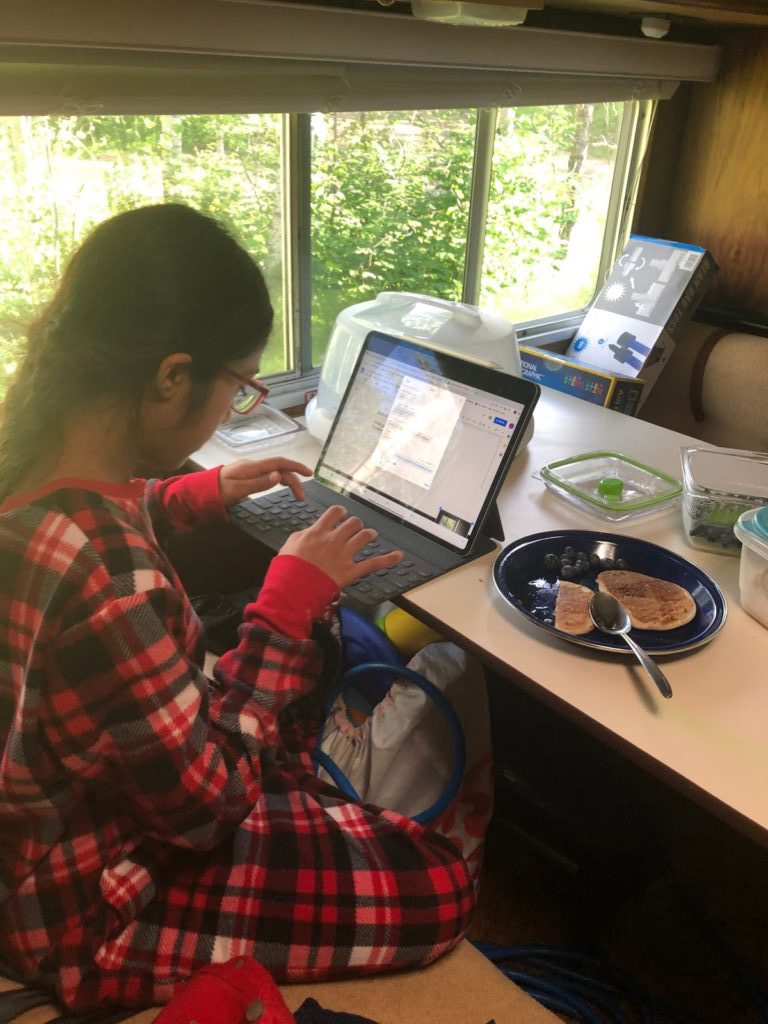 Why did you decide to take a workshop with us?
I am teaching a coding option next year and I wanted to improve my skills as I am a beginner coder myself but love all things technology. I also wanted to add more coding into my math classes as well. The idea of creating art with coding was intriguing because I am not the greatest artist with a pencil so I thought maybe I could be [good at art] if you add in my love of technology and all things computer. It was the perfect combination. I could finally say I created art that I was proud of and it was an easier medium for me. It had not occurred to me that this was an option.
How did you and your kids end up in a Ladies Learning Code workshop together?
My daughter was peaking over my shoulder during the introduction and was very interested as she is a budding artist and budding coder. This was much too exciting for her to be left behind as it combined her love of art and coding. She was supposed to be babysitting her little brother so I could focus for a couple of hours but her sheer fascination with my screen led me to having her pull up a computer beside mine and she quietly followed along. That is until I was stuck and she started helping me out. She figured out the challenges and guided me through some of the trickier code. Once my daughter was sitting next to me with her computer, my son needed to join the action. He has learned to love video chats since COVID-19 has him locked in the house. He loves to say hi and wave at the people in momma's computer. The code was so fascinating to him as he wanted me to change the shape and the colour and he laughed every time I was able to code his demands.
What was your favourite part of the workshop?
My favourite part of the workshop is when they challenged us as this led to some great conversations with my daughter and helped us understand the process. I learned a lot about loops and how to add in "if then" statements. This was the most complex coding I have done so far. It was not as straightforward as the other coding I have learned and it really made me realize that debugging is a very important step and not to miss the brackets.
What will you do with what you learned?
I plan to incorporate this into my teaching especially in my math and coding class. I also am hoping to be able to sit down with my daughter and code for fun. Just sit and create art together as this will be the first time my art might actually turn out. I also will use these skills to help my daughter show her understanding in non-traditional ways in school. For example, if she has a project to complete my first question will be "can we code something to show your understanding?" I am hoping to be able to expand this into my classroom for my students.
Do you have anything to share with the Code Mobile team that ran the workshop?
I would love to let the Code Mobile team know that they were very engaging and had my complete attention. That is hard to do online. They made sure we were comfortable before we moved on and were always checking in. I never felt pressure to keep up or felt like I was left behind. Thank you so much for this experience and can't wait to learn even more!

Looking to learn something new and exciting in a fun, welcoming environment designed for beginner coders? Click here to sign up for a free workshop today!
Canada Learning Code is made possible by the individuals and organizations who invest in our work and share our vision that everyone in Canada should have the skills and confidence to harness the power of technology to create a better and more inclusive future. For a full listing of our amazing funding partners or to learn more about how to get involved click here.
Other Great Reads
Are you unsure about how to teach kids coding or where to begin? We understand the amount of preparation and stress it takes to prepare a computer science...

Learning about how Google autocomplete predictions work with our partner, Bluetrain We encounter this every day — we search for something on search e...

In 2022, we took a step back in consideration of what Canada Learning Code Week means to teachers and students around the country. We wondered: if student...