Opens in a new window
Opens an external site
Opens an external site in a new window
Involvement & Growth (And How I Became a Chapter Lead)
The Background Story
I started late into my love of computers and all things digital. When I was in high school we had some exposure to computer and programming but it was very minimal and at that time my thoughts on what I wanted to do with my life were – according to my yearbook, "Have a career in business or art". So I was not even thinking about computers at all at that time. However, one fateful day (after moving back home to live with my Mom), she had me upgrade her operating system from Windows 3.1 to Windows 95.  As I sat there plugging in disc after disc and the subsequent setup of the new OS I realized that I was loving it! It wasn't long after that I discovered the internet and web development and finally took this crazy new passion I had for computers, the online world and programming and went to college for Information Systems.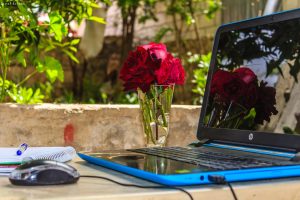 I have worked in and out of the industry since college and over the past few years, I have been looking for something to not only get more involved in the things that I believe in but to grow myself as a person and grow my career. One of the things I am passionate about is getting other women involved in IT and digital culture in general. Not only do I believe that there are definitely women and girls interested in and/or passionate about IT, but I think that they are just looking for a way to start! And I think that that interest can come at any time. Maybe like me they never had an interest in their younger years. Or maybe they did but thought that only "boys" can fix computers, program websites, or make a robot.
The Catalyst
I can recall starting a new position and being the only women in the development department. It is often the case that I end up being the only women doing development or in the IT department. But in the process of meeting everyone, I met with the accounting department. That department was mostly women and when they were told that I was the new software developer, one of the women wrinkled her nose and asked me why I would want to work in development. And I am not exaggerating, she literally wrinkled her nose. My answer was simple, I like it. It stuck with me and was the catalyst for me wanting to get more women involved in the industry.
Recent History & Today
Two years ago in my searches, I found a website for Ladies Learning Code. It seemed right up my alley as I also like to teach and mentor. I signed up to receive notifications regarding workshops and started receiving emails. Workshops seemed like a great idea to get more women and girls learning IT and finding out if they have that same passion for the industry in general. They can explore various concepts without committing to an entire university or college program. Plus it is a great way to see that, "YES! There are other women interested in the same things as me!"
Unfortunately, most of the notifications were for workshops that were just to far away for me to be an instructor or mentor. I wanted to to be proactive and find out if there was anything I could possibly do locally or at least identify that there might be a gap. I emailed info@ladieslearningcode.ca and asked,
"Can I do something in conjunction with you or do you have any links with local organizations? Please send me an email and let me know how I can volunteer or help :)"
Shortly after, I received an email from our Canada Learning Code CEO, Melissa. She let me know that if I was interested that they were always looking to expand and reach more people in more communities. I had not even thought of starting a chapter myself, I was just looking for a way to give back and get involved, but what an interesting prospect it was! And the rest is history as they say.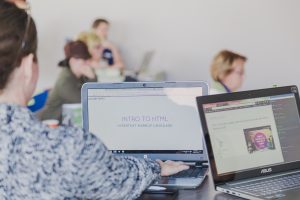 So now on May 26th we have the very first workshop (HTML & CSS for Beginners: Learn to Build a One Page Website From Scratch) in Belleville Ontario and the month following we'll be having another workshop – Getting Started with WordPress + Blogging and I am hoping to grow the local chapter to have many more workshops and events including workshops for kids, girls, teens, and teachers.
I am so glad to have this opportunity to work with such an amazing organization that is doing something that is so near and dear to my heart. I cannot wait to see what the future holds for Canada Learning Code and for myself!
Heather Maga
Belleville Chapter Lead
heather.maga@www.canadalearningcode.ca
Other Great Reads
Are you unsure about how to teach kids coding or where to begin? We understand the amount of preparation and stress it takes to prepare a computer science...

Learning about how Google autocomplete predictions work with our partner, Bluetrain We encounter this every day — we search for something on search e...

In 2022, we took a step back in consideration of what Canada Learning Code Week means to teachers and students around the country. We wondered: if student...