Opens in a new window
Opens an external site
Opens an external site in a new window
Intimidated To Excited: How One Ladies Learning Code Workshop Changed My Mindset About Coding
Learning how to code wasn't something I considered doing in my spare time and I never thought it'd be part of my job. To be honest, I always thought coding and computer science would be very difficult. There wasn't a particular reason for this, it just seemed intimidating to me. When I was in high school and university, I heard a lot about computer science but didn't think that it was for me. I love writing and putting together great visuals that really help tell a story. To me, coding was the opposite of that. Then, I started working at Canada Learning Code.
I was introduced to coding very early on in my role here as the Marketing Manager. I had access to the back-end of our website, I joined our incredible Toronto Code Mobile team on a school visit and I quickly learned what kind of experiences we designed and delivered. After all – I need to know what and how to communicate what we do to the public!
I learned coding on the fly. I googled how to embed images, create anchor tags or even double checking the accuracy of what lines of code looked like when adding them to marketing materials as design elements. Enough was enough – I needed a basic understanding of HTML & CSS so when we started offering live online experiences, I jumped at the opportunity to try out my very first Ladies Learning Code experience.
I was very nervous but also REALLY excited to learn coding with our amazing bilingual French Code Mobile team. I was nervous because outside of Google searches, I didn't actually have any real knowledge of what coding is. I was also nervous because these were my peers and I didn't want to embarrass myself! As soon as I logged on, I was welcomed with smiling faces and giggles – the team knew I was signed up for the workshop. Boom – I was no longer nervous, just excited to spend the next couple of hours with the team and learn how to code.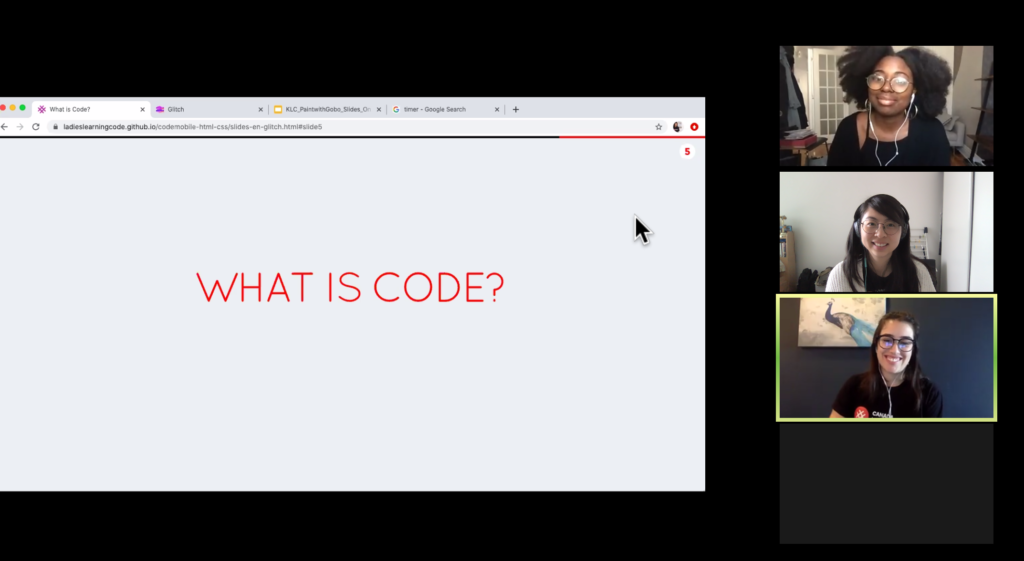 Before being placed in the virtual room with all of the other learners, I was virtually signed in to make sure I had everything I needed and after a quick tech check, I was ready to go!
I was then moved into the general room with the instructor and other learners. We chatted about why we decided to take the workshop and what we were hoping to get out of it. I met a learner who had never considered coding before (like me!). She was in between jobs, didn't really want to pursue what she learned in university and just wanted to learn something new that could be useful. Another learner was interested in the workshop because she wanted to know if the problem her website was experiencing is complex or if it's something she could fix by herself. I could tell right away that there was a range of experience levels.
I found the workshop to be super collaborative and a lot of fun. The workshop had a step-by-step feel to it so I never felt like I was getting lost or left behind. It's one thing to say that our workshops are social in the marketing materials I work on but it's another to actually live and witness it. There were lots of opportunities to ask questions and there were A LOT. Some questions were as simple as "where am I supposed to click" and others were a little more complex like "what's the best way of nesting tags when it's a very long section you're creating"? We never felt rushed when we were working on our projects and the team did a really great job at making sure we were all on the same page before moving on to the next part of the workshop.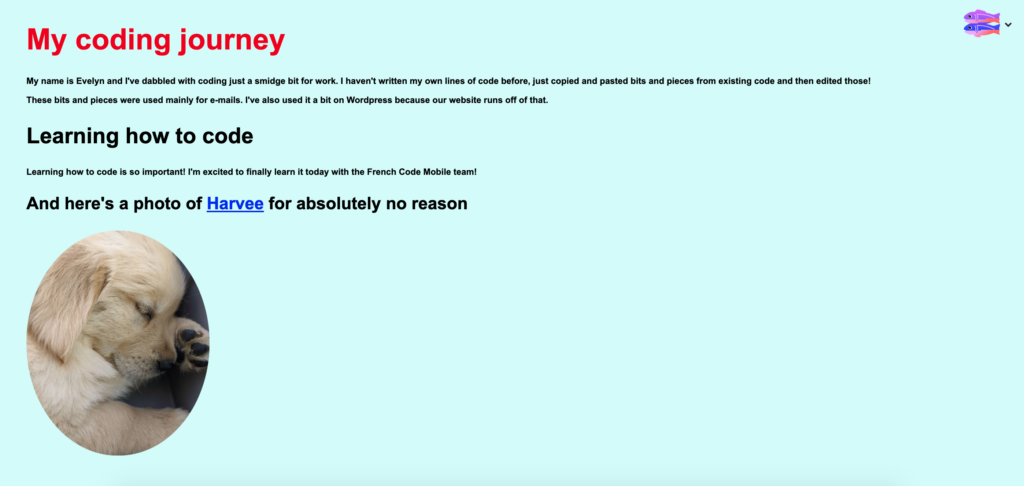 By the end of the workshop, I created my very first webpage. What I loved most about this project-based workshop is that I can always go back and add more to it or change the way it looks! Before we called it a day, the team opened up the floor for learners to ask questions to clarify what they've just learned or specific to projects they're working on outside of the workshop. And just like that, two hours flew by and I had learned an incredible new skill!
I now have a better understanding of HTML & CSS and a newly developed curiosity to check out the back-end of our website rather than just populating content. Another major perk? I can effortlessly say "yes, we can do that" for requests that I previously had to spend hours researching. As a result of just one workshop, I'm now able to make decisions confidently and take part in conversations I used to shy away from.
Interested in learning or developing your skills in a collaborative and welcoming environment? Whether it's just for fun or to gain confidence in yourself for work, check out our Ladies Learning Code experiences!

We would like to give a big shout out to our friends at Microsoft for supporting our Ladies Learning Code program! Microsoft is committed to digital skill development and beyond supporting organizations like CLC they've developed amazing resources that anyone can use to continue learning – check them out here: aka.ms/Skills . Thank you Microsoft for your commitment to learners like Evelyn, and sharing our belief that digital skills are tools for empowerment.
Other Great Reads
Are you unsure about how to teach kids coding or where to begin? We understand the amount of preparation and stress it takes to prepare a computer science...

Learning about how Google autocomplete predictions work with our partner, Bluetrain We encounter this every day — we search for something on search e...

In 2022, we took a step back in consideration of what Canada Learning Code Week means to teachers and students around the country. We wondered: if student...