Opens in a new window
Opens an external site
Opens an external site in a new window
Five Quick Facts about TeacherCon

Are you coming to TeacherCon?
But wait, you may be asking, what is TeacherCon?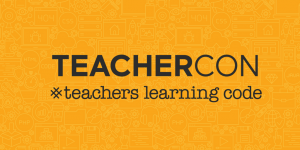 TeacherCon is a multi-day event designed for teachers by teachers, addressing requests reaching Canada Learning Code from across the country for educators to learn more about how to teach coding and programming in their classrooms.  Due to a demand for workshops for teachers, CLC began offering professional development for teachers who have consistently asked for more and longer workshops. Carolyn Van, Director of Program Design, one of the original workshop facilitators for teachers, shares that "we are so thrilled to be able to offer more educational resources across Canada, such as TeacherCon, with the support of CanCode".
Here are the 5 Quick Facts:
TeacherCon is free! We are even offering applications for travel stipends for those teachers who must travel a distance to attend.
At least fifteen TeacherCon events are planned to reach twelve or more cities across the country in the coming months, all generously sponsored by the CanCode program of the Federal Government.
Each teacher will leave TeacherCon with a kit of practical hands-on tools and resources that they can use out of the box immediately in their classroom.
Workshops are beginner-friendly and designed for teachers with a view for accessibility and affordability. We explore such free tools as Scratch, Processing, and HTML web design with additional breakout sessions covering Unplugged Activities, Design Thinking, microprocessors and deeper dives into each of the tools introduced. Our goal is to show that computer science and tech are not just for STEM teachers, but all teachers – and all students.
Teachers are loving it! Here are some of their feedback from the TeacherCons so far:
"Day 2 was excellent! I enjoyed the recap of terms we learned the day before (through the Kahoot game). I didn't think I would've gotten into it as much as I did, but I loved learning about Processing and building the emoji (interactive artwork). It's a project that will really resinate with the students because it's something they use on a daily basis in the real world. The X-Ray Goggles for HTML was interesting too and will really engage the students. Steps for the Processing workshop at the end of the day was broken down nicely and easy to understand."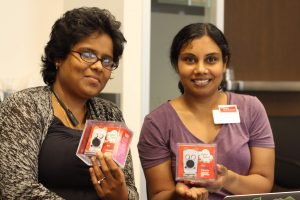 "The content was excellent, and the way the information was broken-down is very actionable, and I particularly like that I can emulate the presenters when I present one of these lessons to my students."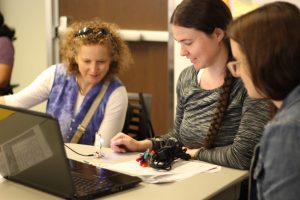 "Great day for hands-on coding. Really enjoyed the keynote speaker from Amazon and the open processing software and Mozilla HTML software."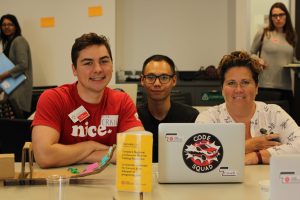 "Today was so engaging! I didn't want to miss anything so I didn't take a break until we stopped for lunch. I had a quick look at the lesson plans linked in the slide show and immediately thought of how I can incorporate them into my grade 5 classroom next year. Thank you for the resources, the handouts and access to the slides so that we could concentrate on listening and learning and not have to worry about writing things down. Great job!"
Other Great Reads
Are you unsure about how to teach kids coding or where to begin? We understand the amount of preparation and stress it takes to prepare a computer science...

Diversity and inclusion are at the core of who Canada Learning Code (CLC) is and why we exist. While we pride ourselves on being an inclusive, welcoming p...

My first experience with Boys & Girls Club of Canada (BGCC) happened when I was in high school – and what I had learned that ...