Opens in a new window
Opens an external site
Opens an external site in a new window
Everyday Magic: My First 3 Months on the Code Mobile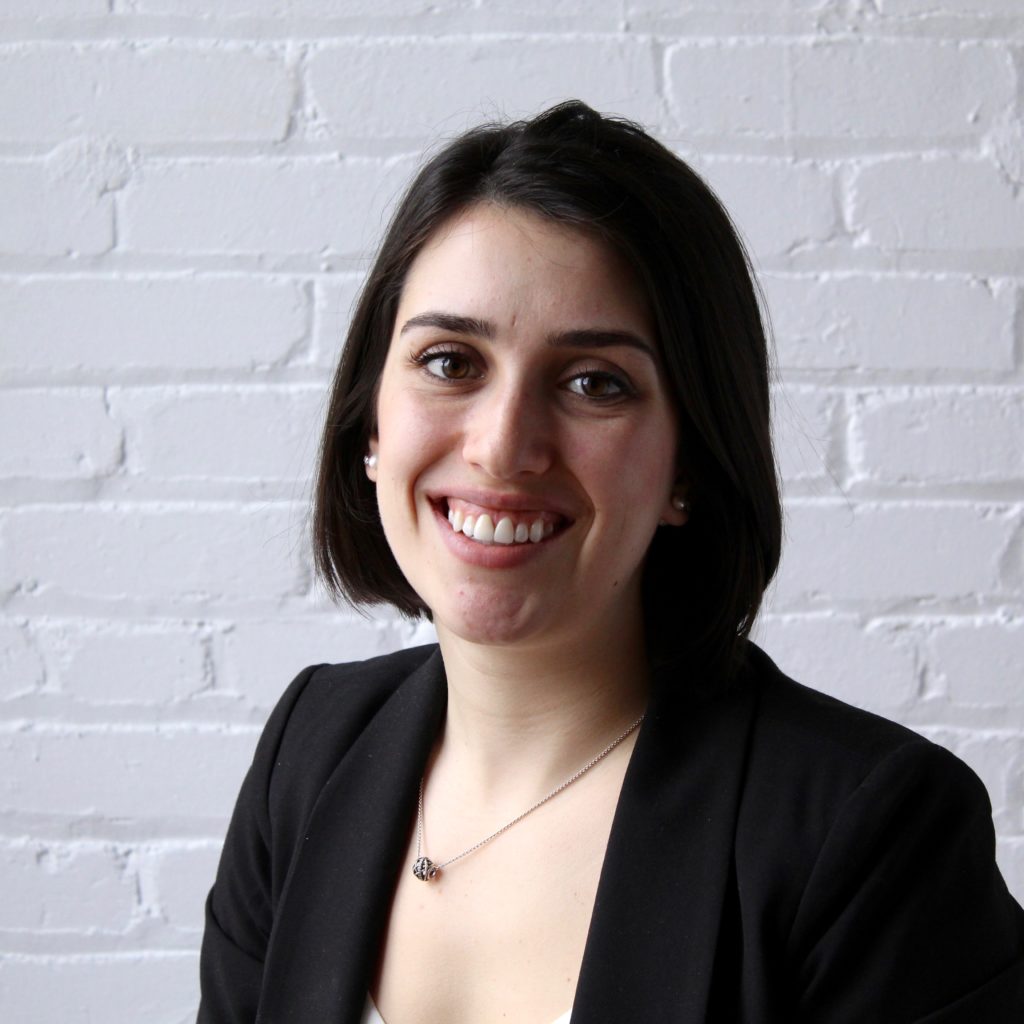 Meet Erin Bergeron! In this blog, Erin, a member of our stellar Toronto Code Mobile, shares more about the magic, joy, and "A-HA!" moments she gets to see unfold when delivering inspiring tech education to communities all across the Greater Toronto Area.

Hi! I'm Erin Bergeron, the Communications Lead for the Toronto Code Mobile team. I am one of the newest members of the national Code Squad having just joined this past January. I wanted to share my insights on the first three months of my whirlwind time on the Code Mobile with the world!
When I first started working for the Code Mobile, I kept hearing "every single day is different" and my goodness, was that the truth. At each and every visit, I meet incredible youth, inspiring educators, and passionate learners. We get to be a part of these daily magic moments when our learners create something they would never have thought possible at the start of the workshop.
Everyday Magic
I'm not sure I can narrow down my favourite experience thus far to one specific instance. Rather, I relish the moments at the end of a workshop when our learners are all lining up to leave the classroom, and they are buzzing about how much fun they had and how they "never want to stop coding". At schools, as soon as the first workshop is over, word about the awesome Code Mobile workshops seems to spread like wildfire. From that moment on, if we leave the classroom to eat lunch, get water, etc., we are suddenly celebrities. Kids are whispering about the "Code Squad" wherever we go, and waving excitedly at us. I know our work is making an impact when the kids deem us cool!
It's so great to see kids and teens who think that coding isn't for them complete a video game and start to get creative with their projects to make them their own. That moment of empowerment when they realize that they have created something when they didn't think they could is such a powerful moment that I feel so privileged to be a part of. My favourite phrase to use during workshops is "I don't know, try it!" because when youth see that they can push their own boundaries and experiment with technology, they realize how much potential they have in so many areas of learning!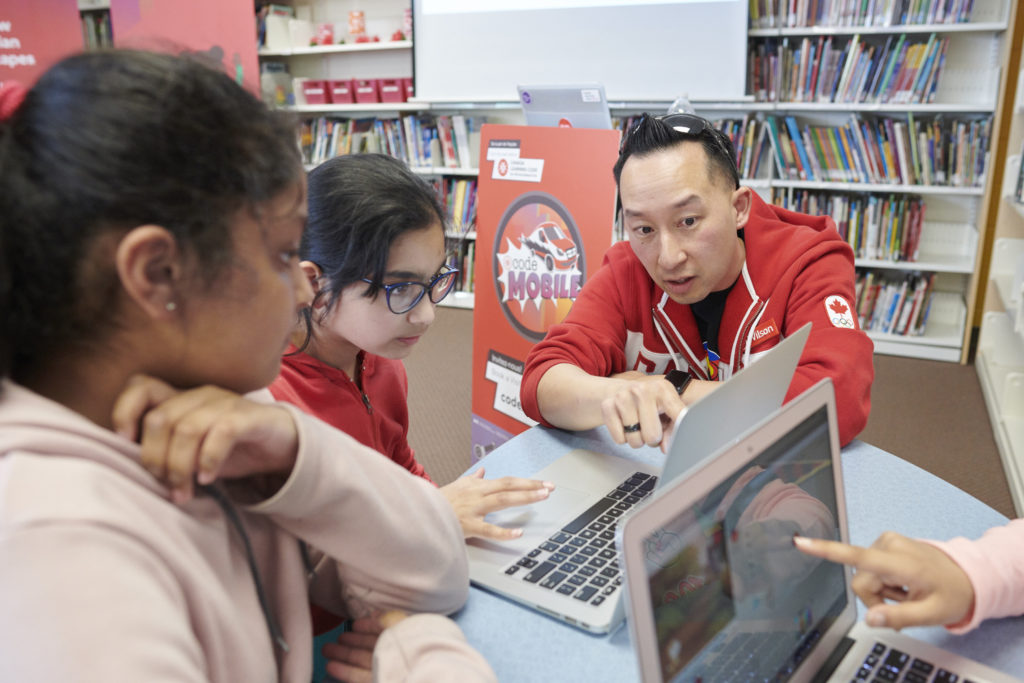 'That moment of empowerment when they [learners] realize that they have created something when they didn't think they could is such a powerful moment that I feel so privileged to be a part of.'
The Power of Partnership
I know I've made this sound like a truly amazing job and everyone reading this will soon be vying for a spot on the Code Squad, but I must warn you of the truly gruesome aspect of this job: mornings! My fabulous partner, Cael, and I are frequently up and on the road by 6:30AM — something I never would have thought possible of myself before joining the Code Mobile. Thankfully, Cael is a ray of sunshine in the morning who makes our early travels that much easier.
Cael is a fantastic educator with a passion for the job — something not hard to find at Canada Learning Code — and manages to make every person feel confident in their coding abilities. With a background in education she ensures that every single workshop participant has a fun time and learns a lot of valuable skills along the way!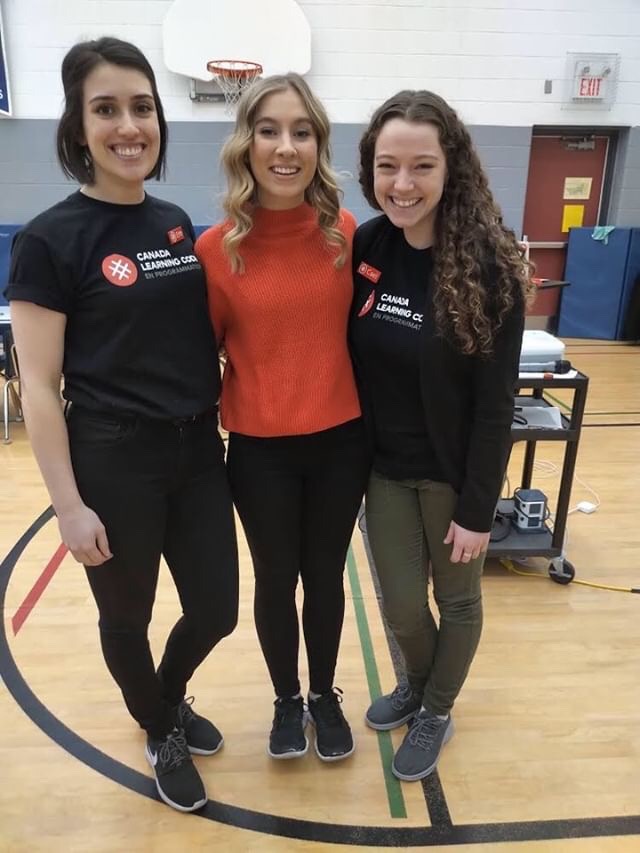 Here are Erin and Cael at the school that won a Code Mobile visit through the Kid Tech Nation prize. YTV's own Spencer Litzinger joined the Toronto team for the day!
Memorable Moments: Microsoft DigiGirlz Day
One of my favourite visits has been delivering a full-day of learning at 2019 DigiGirlz Day in partnership with Microsoft. 130 teen girls came together and worked on creating solutions for social, economic, and climate issues that are most important to them. The room was buzzing with passion and creativity, and the ideas the DigiGirlz came up with were truly inspiring. One group decided to tackle the issue of teen productivity and procrastination by creating an interactive website that would track a teen's upcoming commitments and give them tips, tricks, and advice on how to stay on task. Another group looked at how to help teens decide which career path is right for them by creating a website that had different career descriptions, with future plans to include testimonials from people in non-vocational careers to educate teens about the diverse options available to them. It's fantastic to be able to see the next generation so actively engaged with the issues in their communities and it makes me so hopeful for our future.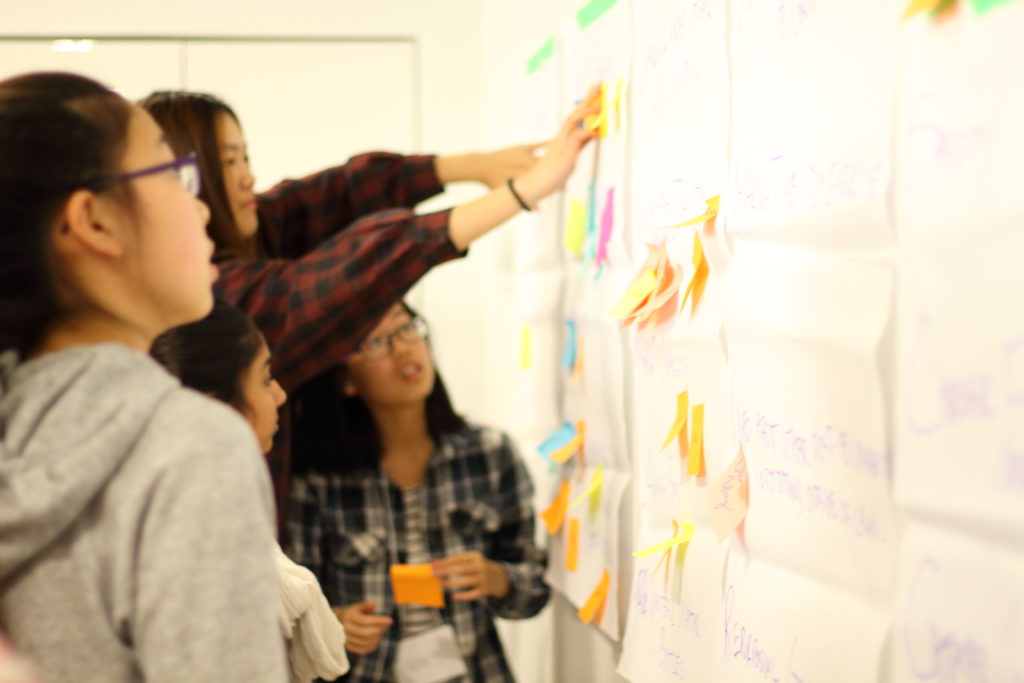 Our teen learners use design thinking and technology as tools for collaboration, problem solving, and creating social change.
What's Next?
This year on the Code Mobile we'll be working more with teens to help them develop their digital toolkit, and realize the change they want to make in the world with the support of technology. Our entire Code Squad looks forward to reaching thousands of teen learners nationwide, and continuing to be a part of this magic.

I can't wait to see what the rest of my Code Mobile experience looks like — especially as we expand our reach and start to work with adult learners, too — but I know that I will continue to be inspired every single day by the ability of people to learn new things and take ownership of a skillset that they never thought possible. Coding is for everyone, and the future is code.
If you're interested in learning more about the Code Mobile or would like to request a visit for your community, head to our website www.codemobile.ca! We deliver workshops to youth, teens, teachers, and adults, so there's something for everyone looking to develop their digital literacy.

Other Great Reads
Are you unsure about how to teach kids coding or where to begin? We understand the amount of preparation and stress it takes to prepare a computer science...

Learning about how Google autocomplete predictions work with our partner, Bluetrain We encounter this every day — we search for something on search e...

In 2022, we took a step back in consideration of what Canada Learning Code Week means to teachers and students around the country. We wondered: if student...