Opens in a new window
Opens an external site
Opens an external site in a new window
Coding = New Opportunities? My Story

Ariba is a grade 11 high school student and has been attending Teens Learning Code workshops since January 2017. She is interested in both health sciences and technology and hopes one day to combine the two as her career. Ariba is currently a Teen Club Ambassador. In this blog post, she shares how she discovered her affinity for code despite initially finding it intimidating—as well as how to get started with code if you're a beginner!
Throughout all the years I've been in school, I have never been exposed to coding—until the beginning of this year. Before this year, I thought the only pathways I could pursue were going to be related to the maths and sciences. I never thought of technology as something I could do in the future since I had absolutely no experience in it.
However, I was wrong. If you know how to use your phone and computer, then you have experience in technology! I wish I had known this when my friends invited me to join an HTML and CSS workshop with Teens Learning Code. I was quite hesitant; I didn't even know what HTML and CSS were, or that they were the foundations of a website. I was anxious and nervous: Would I be the only one there with zero experience in coding? Would code be gibberish to me? What if I didn't understand the concepts?
My first Teens Learning Code workshop
When I stepped into my first Teens Learning Code workshop, the environment was amazing. It was filled with encouraging instructors and mentors to guide me throughout the lesson, even when I didn't understand something. So, by the end of the workshop, I finally had some basic experience with code—and knew how to make a website! Sure, my first website wasn't so cool, it was made from scratch after all. But I was so fascinated with the art of coding, that I decided to attend another workshop on Javascript, then another on JQuery, and by the end of it, my websites looked more professional and more beautiful.
If you want to perfect any skill, you have to practice and be confident. You can't be afraid of being slow at understanding concepts because that's bound to happen. It's the process of learning that matters most. When I accepted that I got better at coding and realised more opportunities were opening for me.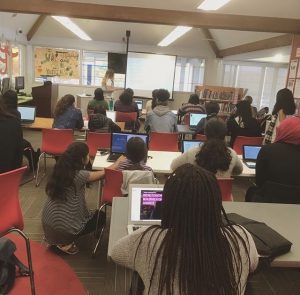 Knowing how to code and being passionate about it has given me skills that are in high demand in the workforce. I now possess knowledge that I believe everyone in today's society needs, as we all depend on technology so heavily. If people say technology controls a big part of our lives, shouldn't we also be able to learn how to work with it?
Even though I love working with technology, I will not have many opportunities in high school to take any computer science class. The only choice I have now is to take some courses during the summer. Problem is, I can't stand summer school. The heat is unbearable and it can get really boring. Instead, I've decided to keep attending Teens Learning Code workshops and continue to practice at home. While I still want to pursue a career in life sciences, in university, my electives will be plenty of computer science courses. You don't have to major in computer science—there are many ways to learn to code, and it will benefit you in almost any career you have.
How You Can Get Started!
I'm guessing now you want to know more about coding but have no idea to get started. You could do I what I did—and get inspired by going to Teens Learning Code workshop which has a safe, nurturing, and encouraging environment.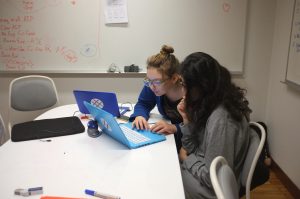 Or you could also start at home and remix coding projects that have already been made, online. This is a fun way to make games amongst other things while learning HTML, CSS, and Javascript. Some websites I use are Made with Code by Google and Mozilla Thimble.These websites value open source projects, publicly accessible code that anyone can build off of—in other words, these projects value collaboration. Scratch is also a great platform for you to make games and animations just by dragging and dropping commands. While Scratch doesn't involve writing code, it requires you to practice same concepts — such as the logic and computational thinking that are needed in the framework of a coding project.
Another fun way to get experience in code is by using Mozilla X-Ray goggles which is a cool way to remix the code behind your favourite web pages. Additionally, let's not forget about Erase All Kittens which is an adventurous game that lets you learn code by fixing and building levels as you play by using HTML, CSS, and Javascript.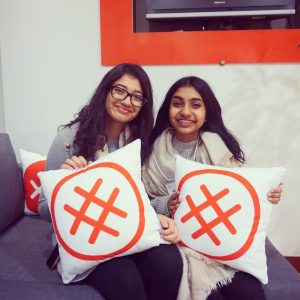 Let's all equip ourselves with some important and awesome skills!
Want to learn more? Our Teens Learning Code program offers female-identifying and non-binary youth ages 13-17 opportunities to take action on ideas that will shape our future while leveraging the power of technology. Our learning experiences are much more than learning how to code. Our experiences empower teens to learn problem solving skills, how to turn ideas into reality, exposure to what a future in technology could look like, and much more. See our upcoming workshops and events at teenslearningcode.com.
Other Great Reads
At Canada Learning Code, we firmly believe if you can't see it, you can't be it. Which is why we're lucky to have partners like SAP who give our learners a...

Ravicha Ravinthiran is a grade 12 high school student—and our newest Teen Club Ambassador in Toronto! She is interested in technology, entrepreneurship a...

This past December, we held our third annual Teens Learning Code hackathon in downtown Toronto! Teens spent the weekend learning, creating, and collabo...