Opens in a new window
Opens an external site
Opens an external site in a new window
Bridging the Gender Gap in Tech and My Experience as a Teenage Coder

Ravicha Ravinthiran is a grade 12 high school student—and our newest Teen Club Ambassador in Toronto! She is interested in technology, entrepreneurship and public health. Through Teen Club, she has been able to improve her coding skills, attend cool workshops, participate in field trips and learn about the huge role that technology plays in pretty much everything these days.  In this blog post, she shares her experience with technology and why investing time to engage girls in STEM is so important. She hopes to one day create a startup that will revolutionize health care systems in Canada and around the world. 
Early Experiences With Technology
Ever since I was a kid, I remember my dad always looking for ways to get me involved with programming and computer science. He really loved working on websites, computer hardware, software and anything else technology related. It was his thing and it soon became mine. When I walked into my first C++ course in grade 6, I immediately felt discouraged because I was the only girl in my class. I quickly dropped out and enrolled in the Photoshop class because there was another girl in it with me. I had a lot of fun, learned new techniques and forged new friendships. In grade 8, I was able to learn more about programming and robotics through my science class and I was so excited to learn more about HTML and CSS as soon as I entered high school. My class was filled with a bunch of excited students looking to write their first line of code.
But when looking at computer classes in upper years, the fact that there were barely any girls discouraged many students like myself to pursue computer science after grade 9. I didn't see anyone else like myself that I could relate to. I looked towards other means to learn this important skills. When I joined my school's robotics team in grade 9, I was hesitant: it was a room filled with guys who seemed to know a lot more than I did. The main reason I continued on was because of the amazing support the girls on the team gave me—and I'm glad I did.
Teens Learning Code and My Journey
I joined Teens Learning Code looking for the same support the girls on my robotics team provided me with. After attending my first workshop last spring to now, I have been able to refresh and develop my skills in HTML and CSS as well as learn new coding languages such as Javascript and Ruby. I have been able to volunteer at workshops and camps for younger students and inspire them to continue to explore computer science.
As we all know, the gender gap in tech still exists and more needs to be done to bridge the gap. I really glad that I have been given opportunities to learn more confident in tech and I hope that more girls seek out opportunities that allow them to go into a male dominant field and show everyone just how talented we are as well. As a member of the Canada's Learning Code's Teen Club, I was given the opportunity to look at how technology plays a role in different industries that I had no idea were so focused on technology. I share some of these experiences here:
Exposing Girls to the Reality of the Tech Sector and the Opportunities Within it
Ecobee
Who would have thought that a thermostat has so much innovative technology behind it these days? In February, Teens Learning Code visited Ecobee—a company that creates smart wifi thermostats—to learn more about electronics, circuits as well as big data. Through presentations, we learned how the software like Amazon Alexa and Google Home work and how these services can be incorporated in our daily lives to make it so much easier.  These really showed me how technology is revolutionizing the world in which we live and play. Many of us have this presumed stereotypical view of what a job in the tech sector is. Many people like myself used to picture someone in tech as a guy with his head in his computer all day when in reality that is far from it. You can make cool inventions and innovations and help our lives for the better.
One of the activities planned was 'Paper Circuits'. I was able to make a birthday card for a friend with light up stars and a cool space theme.
Ellehacks
Ellehacks was a women-only hackathon at York University, and my first ever hackathon that I heard about through Teens Learning Code. I loved that this hackathon focused on learning. The environment was really welcoming for first time hackathon goers like myself and really helped me learn more about Major League Hacking: how to solve problems under pressure.  At Ellehacks, I worked on a project addressing the food waste issue in Canada, which costs us over 41 billion dollars annually! We designed an app called "The Thyme is Ripe"— which records all food purchases along with everything in your kitchen using an IBM Watson API. It would then tell you whenever anything you bought was about expire and pull up recipes you could make using that item and other items you already had. I had a great time trying to find an innovative solution for a household problem.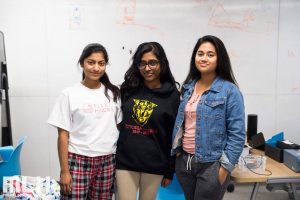 This is a picture of the team I had the pleasure of working with that weekend! 
Women In STEM Panel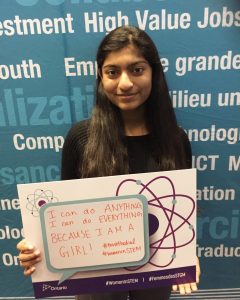 In February, I had t he opportunity to attend a panel hosted by the Government of Ontario in honour of the International Day of Women and Girls in Science as a member of Teens Learning Code. The panelists were accomplished women who came from all walks of life.  Listening to the  stories about how these women broke boundaries and became successful in fields such as health care and education with the power of technology was very empowering. I hope to follow in their footsteps and make a positive impact in the the issues I am passionate about.
Other Great Reads
At Canada Learning Code, we firmly believe if you can't see it, you can't be it. Which is why we're lucky to have partners like SAP who give our learners a...

Ariba is a grade 11 high school student and has been attending Teens Learning Code workshops since January 2017. She is interested in both health sciences ...

This past December, we held our third annual Teens Learning Code hackathon in downtown Toronto! Teens spent the weekend learning, creating, and collabo...