Ladies Learning Code is supported by an awesome network of partners and sponsors. These companies range from small start-ups to some of the largest companies in Canada and everything in between. Every quarter, we publish a summary of news, exclusive announcements, and job postings at these fantastic organizations. Enjoy!
---
TELUS
One of the many things we love about TELUS is how excited their team is to roll up their sleeves and help take our events to the next level. From our Code Mobile launch party to our National Learn to Code Day celebrations, you'd be hard-pressed to find a Ladies Learning Code event without people in TELUS t-shirts running around!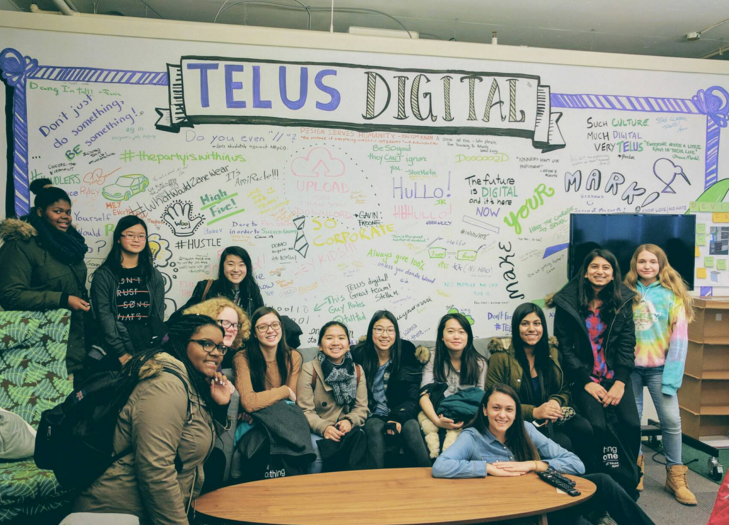 This year's Tech Day on February 17th was no different, with TELUS graciously opening up their Toronto offices to host our Teen Club for an industry field trip. Our teens got an exclusive tour of the TELUS Digital offices as well as the opportunity to learn about working in tech from industry leading experts. To cap off the day, our teens participated in a hands-on learning activity with the TELUS team.
Our teens left inspired and excited about what a future in tech could mean for them.
Thanks, TELUS, for an experience we'll never forget!
Maggie
Scotiabank
More than a year after Scotiabank founded its Digital Factory tech accelerator unit, it has opened the doors of its permanent, state-of-the-art home in Toronto. With shared space and resources, Scotiabank is hoping Digital Factory's clusters of tech experts will make it a leader in online banking.
Media and stakeholders attended a grand opening on Jan. 26 for the 350-person business unit dedicated to developing digital tools for the financial institution. Attendees were given tours showing off "scrum" teams of six to 12 people tasked with utilizing the latest developer tools to find new customer experiences.
It has been quite a journey since Scotiabank created the Digital Factory,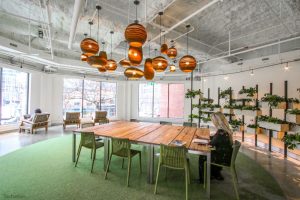 and announced the creation of the Digital Banking Unit.
They've brought to market new digital products for our customers that make it easier for them to bank  — whether they're signing up for a credit card, or opening a small business account online.
They've seen their teams grow. New agilists, designers, developers, working with experienced Scotiabankers, have brought fresh perspectives and ideas that have positively shaped their ever-changing landscape. They're using agile to enable these teams, through continuous learning, to evolve a culture of change that promotes fearless delivery.
They've also brought on board leaders in areas like analytics, design, agile, and engineering to really rethink end-to-end customer journeys.
They've also looked beyond Canadian borders. Scotiabank is Canada's most international bank. Their key areas of focus include Peru, Colombia, Chile and Mexico all instrumental in shaping Scotiabank's digital footprint, enabling them to offer  customers world class digital solutions that are tailored to them, while leveraging Scotiabank's ecosystem
So what will the next chapter at the Digital Factory and in Digital Banking look like?
As their teams continue to grow, they are striving to exceed customers' expectations through:
‍Embedding data-driven learning in every part of the development process;
‍Rapidly building and frequently delivering software to get digital banking experiences to customers faster;
And doubling down on the value gained through design, advocating for the constant improvement of user interactions and customer journeys.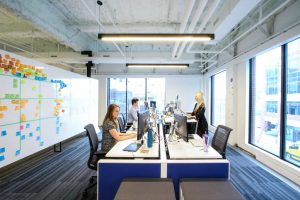 Ultimately, Scotiabank is striving to create leading digital banking experiences that enables customers to bank when, where, and how they want to. Just a few years ago, banking wasn't an industry associated with the likes of design, agile, analytics, engineering. Today these are at the very heart of how Scotiabank is looking to solve problems and interact with customers.
They are looking forward to the future of Digital Banking, and for Scotiabank to lead the charge. It's a journey that they are excited by, challenged by, and now, more than ever, ready to take on.
Scotiabank Team
Google
This year has seen the expansion of our Teen Club into Montreal, thanks in no small part to the gracious support of Google!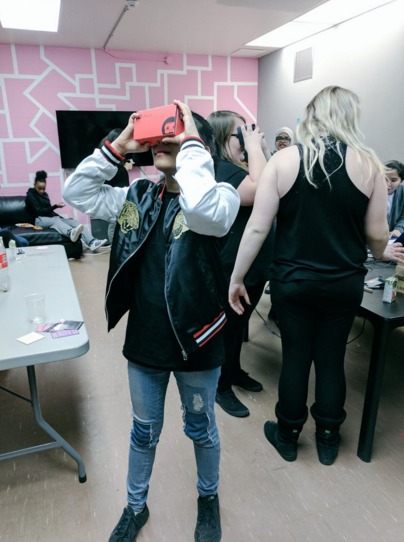 January 27 saw the official launch of Teen Club Montreal. The inaugural event, hosted at the historic Notman House, consisted of a panel discussion with the teens — with Montreal Chapter Leads Nancy Naluz and Cassie Rheaume leading the discussion and sharing their own experiences working in the tech industry.
On February 16th, the Montreal Teen Club met for a screening of CODE: Debugging the Gender Gap.  The film traces the history of women in the U.S. technology industries, from the work of Ada Lovelace and Grace Hopper, to the women of ENIAC and examines the decline of women graduates in mathematics and computer science during the 1980s.
Not long after, our teens had the opportunity to flex their coding muscles by building an multi-page website at Montreal's very first Teen Club workshop, Intro to HTML + CSS. Way to go, everyone!
This is not to say that our teens in Toronto aren't hard at work as well! Toronto is the home of the original Ladies Learning Code Teen Club and meet at least twice a month to attend technical workshops, industry field trips and volunteer opportunities all year round! Most recently, our group of creative coders attended an HTML + CSS workshop at the YWCA in Scarborough.
Thanks, Google, for helping our teens envision and prepare for a future in technology!
Learn more about Teen Club here.
Maggie
Turbulent 
Turbulent is excited to launch our new project, Star Citizen Spectrum. Spectrum is a real-time communication web application built specifically for the fans of the upcoming space sim game. In this video, we give you a full behind the scenes look at how we went about building this integrated community platform from user-centered design approach to a full tech architecture overview. Our motivation was to bring the game into the everyday lives of players to allow them to communicate with others whether they are playing, at work, or on their mobile. Inspired by popular contemporary communication platforms, Spectrum has been built with the latest web technologies such as React/Redux.
If you would like to know more about the technology behind Spectrum, or you think you would be a great addition to our team, feel free to drop us a line at info@turbulent.ca!
Turbulent Team
Capcom
After the success of the launch of Dead Rising 4 on Xbox One back in December we just brought the game to millions of PCs worldwide by releasing on Steam. Now even more fans can hunt the undead on their computer as they try to survive a zombie apocalypse.
The studio is continuing to expand with three projects in active development, with both console and mobile platforms in mind for our next projects. Capcom is looking to build on the success of 2016 with an even greater 2017 as we look to the future and continue to establish ourselves as a leading voice in one of North America's most vital regions of game development. We have great plans in the future so follow us on Twitter to see what's going on inside the studio!
Capcom Team
Clio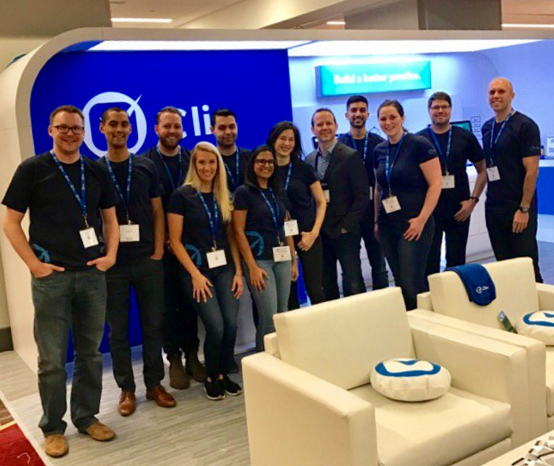 Between hosting Girls Learning Code workshops, our friends at Clio have been spending a lot of time lately dressed up in their best award-night chic. A Deloitte Technology Fast 50 winner for three years running, Clio is proud to be recognized as as one of Canada's 10 Most Admired Corporate Cultures of 2016 by Waterstone Human Capital and 'Employer of the Year' in the Techvibes Canadian Startup Awards.
When you think of legal practice management software, you might not picture an innovative tech company that values its people and culture as much as it does transforming the practice of law, but if you are looking at Clio, that's exactly what you'll find.
The best part? They're hiring for roles across Canada. So if you're ready to do work that matters with an industry-challenging technology leader, they're ready to help you take your career to the next level.
Clio Team
RED Academy
RED Academy was recently involved in Women in Tech week, participating and sponsoring events.  They presented Meredith Powell with a Women in Leadership award, and gave away two scholarships. To encourage more women to enter the tech industry and continue their work with Women in Tech, RED is giving away 10 scholarships for 50% off their part-time programs across all disciplines: web development, design and digital marketing! They are accepting applications until March 31st and will go toward the Spring 2017 cohort in Vancouver.
RED Academy Team
Quandl
Quandl is excited to be a Ladies Learning Code sponsor throughout 2017 and share news of our activities.
Recently, data scientist Pegah Salbi held a presentation at Ruby Lightning Talks in Toronto ("Fantastic Data and Where to Find It"), which detailed Quandl's growth, our data marketplace and the financial analyses she's conducted using alternative data. "I'm fortunate to be able to work for a fast-growing company like Quandl," said Pegah, "It's a place where I can combine my love of data with development languages like Python."
This April 5, Pegah will be joined by Quandl data analyst Lilian Lau at Queen's Engineering Commerce Investment Club, where they will hold a talk on using data for quantitative investment strategies.
Are you looking for a career that will allow you to do exceptional things — where half of the development and data team is female? Quandl is currently recruiting for resourceful researchers and engineers. You can view the latest job postings here.
Quandl Team
Boeing
With the introduction of Boeing Vancouver's new digital aviation labs in Vancouver's Yaletown district last year, we've set the course for a new way of looking at data analytics in aviation. And thanks to the work of over 50 data science, consulting and software development professionals, we're doing it all faster than ever before!
Each day, Boeing Vancouver Labs leverages data science insights, reduces traditional development cycles, and
consults directly with end users to deliver innovative solutions to Boeing customers around the globe. This rapid approach to conceiving, building and tailoring solutions helps airlines and other aircraft operators increase efficiency and reduce overall cost.
As Boeing Vancouver looks towards the future, access to a steady stream of talent with the skills needed to operate in the ever-changing, ever-evolving tech landscape is crucial.
Thanks to organizations like Ladies Learning Code, and their Canada Learning Code week, Boeing is able engage with individuals across the country who are looking to expand their knowledge and experience in this growing field. Our Boeing teams in Vancouver and Winnipeg are ready to participate in June and look forward to helping Ladies Learning Code learn about and celebrate the history of Canada through coding!
To learn more about Boeing in Canada, visit www.boeing.ca.
Boeing Team
Influitive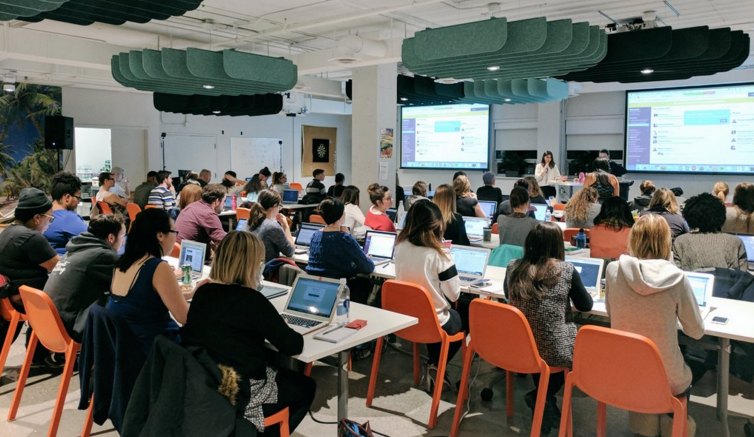 For 7 weeks, from the end of January through the beginning of March, we hosted the Ladies Learning Code Digital Skills program at Influitive's downtown Toronto headquarters. Every Tuesday and Thursday evening, learners brushed up on their HTML, CSS, jQuery skills and more with help from talented instructors and mentors — some of whom work right here at Influitive.
We continue to be incredibly proud to support Ladies Learning Code. Their commitment to developing talent in Canada's technology ecosystem and startup community helps companies like ours hire the best possible people to work toward our mission.
On that note, Influitive is hiring in Engineering, Sales, Customer Success and more! If you weren't one of the lucky students learning at our office each week this winter, learn what it's like to work with us here
Influitive Team
CodeCore
CodeCore is a proud supporter of Ladies Learning Code and lady developers everywhere, and we're always looking for new ways to support women on their coding journey. Here's how we do it and what's coming up:
Supporting and hosting Women in Tech (Details announced soon!!)

Automatic $500 scholarship for all ladies in the full-time bootcamp program

Supporting partner of the brand new Women Who Code Vancouver Chapter (2017), headed by CodeCore Alumni Holly Peck

Hosting and mentoring at Ladies Learning Code workshops and events, and encouraging our alumni to do the same

Keeping CodeCore a safe and supportive space for all ladies learning code
CodeCore is excited to be a part of Vancouver's amazing ecosystem of organizations supporting ladies in tech and we are happy to announce that we still have some room left in our April Fundamentals and April Bootcamp for those ladies looking to take the next step in their coding journey!
Learn more about CodeCore and discover what you can build by attending our CodeCore Demo Day April 7!
CodeCore Team
Journalists for Human Rights (JHR) has launched the redesigned dibaajimo.com, a free digital learning platform to train indigenous peoples across Canada in fundamental journalism skills and help them begin careers as journalists.
Dibaajimo, derived from the Ojibwe and Cree word "dibaajimowin" – meaning a story or a narrative – is an innovative platform that provides indigenous Canadians with journalism training, connections and resources. The core of the platform is a 22-module training course that provides a foundation in journalism basics. Participants can also use the site to make story pitches to editors and access additional resources and story archives. The site is updated continually, with a renewed curriculum slated for release this spring.
The platform was redesigned for JHR's Indigenous Reporters Program by Fjord, Accenture Interactive's design and innovation unit, to address the connectivity challenges that are a reality of living in Canada's most-remote communities. The redesign was funded through Accenture's Skills to Succeed initiative, which aims to equip more than 3 million people around the world with the skills to get a job or build a business by the end of 2020.
Accenture Team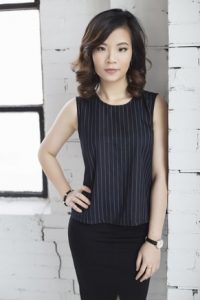 McRock adds Ha Nguyen as Associate further advancing the firms Diversity objectives. Ha has significant experience having worked at Vietnam-focused fund of MAJ Invest, a Danish private equity firm, and Boston-based IDG Ventures Vietnam in Ho Chi Minh city.  She brings international experience in the US, Denmark, India, Singapore, Japan and China, which has helped her develop a global perspective and ability to build cross-cultural relationships.
Ha received her Bachelor of Arts degree from Foreign Trade University in Hanoi, Vietnam and holds a Master of Science degree in Finance and Investment from Aston Business School in Birmingham, UK.
McRock Capital Team
Kano Apps
Hey there, Ladies Learning Code fans! We're delighted to be on the blog and join such illustrious company as sponsors of Ladies Learning Code. If you don't know us, we're an indie gaming studio in Victoria, BC. We've got over eight years of experience making successful social RPGs, with Mob Wars: La Cosa Nostra maintaining its rank as one of Facebook's top 100 grossing games.
Our big news lately is the incredibly huge release of Free Rider HD for iOS! Since the game came out on March 8th, we've reached the #1 free app slot in Australia and New Zealand and the #1 racing game in the USA.
This physics-based side-scroller has been a smash hit on the web for several years now, with millions of monthly active players and a powerful track editor available via the Chrome store. Given FRHD's popularity, we've been really looking forward to bringing the game's 300,000 community-made tracks to mobile and setting it up with new and intuitive touch-screen controls. The new app also features a new levelling system as well as a slot machine, so you can collect coins and choose from over 100 hilarious avatar customizations (we like the rainbow afro.)
The game is the first version of Free Rider to be built fully in HTML5 and JavaScript, and we're still working on new features and optimizations to make the gameplay as fast and smooth as possible. Keep your eyes peeled for the Android version to drop in April!
Download Free Rider HD on the App Store
Play Online at FreeRiderHD.com
Kano Apps Team
As an integral part of the Internet things move really quickly in the domain industry, and life at Dynadot is no exception! With four offices spread across Toronto, San Mateo in California as well as Beijing and Zhengzhou in China, there is always a lot going on.
Our year started out with a bang in January at NamesCon, the leading domain industry event in Las Vegas. The event is a great opportunity for people across our space to get together and discuss the state of the industry. Coming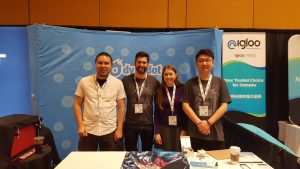 up in May, Dynadot will be attending ICANN's GDD industry Summit in Madrid as well as the European Domain Conference in Berlin, also in May. One of the interesting aspects of the global nature of the web is that our partners and customers are all over the world, so being able to meet with them face to face can be a unique opportunity for an online organization such as ours.
We're always talking about our industry and the events we're attending on Twitter, so if you're interested in learning more about the domain name world, see us over at https://twitter.com/Dynadot.
Dynadot Team
Fiix
In our last update, we had just rebranded and since then there's been no slowing down–Fiix was recently awarded a patent covering our maintenance software. The technology described in the patent will help users communicate and share maintenance-related information through an innovative networking platform. This information-sharing will allow our customers to securely share documentation, procedures, and expertise effectively changing the business of maintenance.
Needless to say, we are growing and looking for like-minded individuals to join us on this journey. Creating an inclusive, sustainable, and responsible company both inside and outside the office is at the core of everything we do, so If you have a desire to create change and be a part of something bigger, check out our openings here.
Fiix Team
---
Our Sponsors & Community are Hiring!
Did you know that we have an awesome job board and that it's constantly being updated? Some of the positions currently available are:
Also, make sure to head over to TELUS' website, they recently launched a new blog and careers page! If you're looking to hire, check out the HackerYou student directory, where you'll find lots of talented developers.