On November 4th 2015, Girls Learning Code took 35 ambitious girls to work, ranging from ages 9-17. "We'll Take Your Kid to Work Day" is an event that empowers and inspires girls to have a go-getter career mindset by exploring the technology industry work force. This event was generously sponsored by Deloitte and the girls had a great time visiting their office!
Focusing on all things digital, girls got a  behind the scenes look on what goes on in the offices of HackerYou, Playground, G Adventures, Nymi, 500px, Deloitte, Pivotal Labs, Salesforce, Telus, Wattpad and Amazon! With the help of the Girls Learning Code Co-Leads, Carolyn, Amanda and Jordan, as well as the amazing mentors, girls were able to gain a hands-on experience of the tech industry during this fun filled day.
HackerYou
At HackerYou, participants were greeted by HackerYou's founder and CEO, Heather Payne. Founded in 2012, HackerYou is a technology school that now serves over 600 students a year out of a 12,000 square foot facility in downtown Toronto. Heather is a role model for many aspiring entrepreneurs, and she's excited to share a little bit about her passion – running a successful business – with the girls. For this activity, the girls will have the chance to start their own pretend business – a car washing service, a comic book publisher or a dog walking service
As a group, they selected the type of business they're going to start, and had group discussions around many of the decisions business owners have to make all the time: whether or not to bring on a partner, how to advertise, how to respond to an unhappy customer, and so on. Each decision came with three options, and the decision will be made based on the option with the most votes.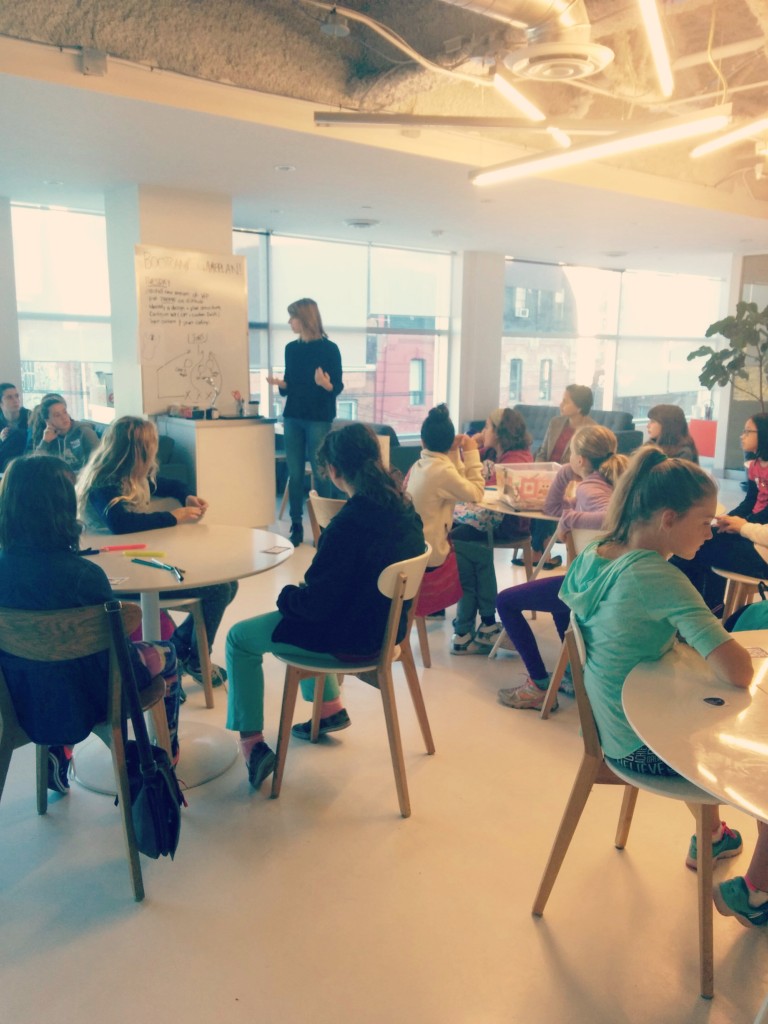 Playground Inc
Playground Inc is a creative agency that focuses on digital marketing, design and technology. The office space looks and feels much like a "playground", on which excited all the girls. Playground's founder, Sami, showed the girls some of the creative work Playground produces, including YTV's website!
Girls later became designers themselves, by creating their own apps. Just like UX designers in the real-world, the girls drew out wireframes of incredible ideas, from unique photo editing apps to fashion store apps!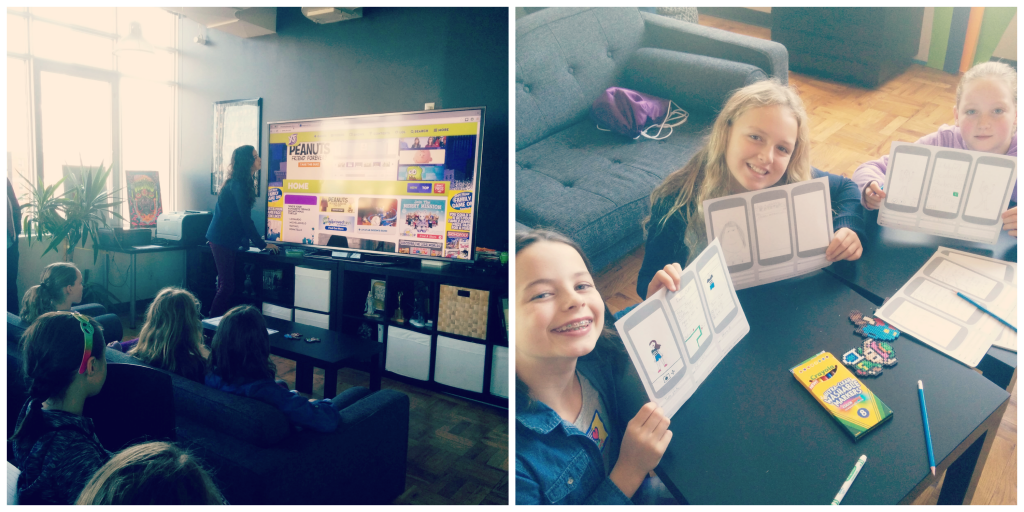 G Adventures
Tucked in a small street corner is G Adventures. From the outside, it looks like an ordinary building, but once the girls entered inside, they were immediately fascinated by the quirky office space and wonderful staff. This travel agency office truly reflects the adventurous trips they provide–each room of the space feels like a trip of its own!
Each girl received an interactive activity book called "Do Big Small Things" written by the G Adventures founder, Bruce Poon Tip. They were all reading, writing and doodling in the book about their adventures. The girls also played games with the toys in the office, ate a whole lot of popcorn from the popcorn machine and learned about travel from G Adventures!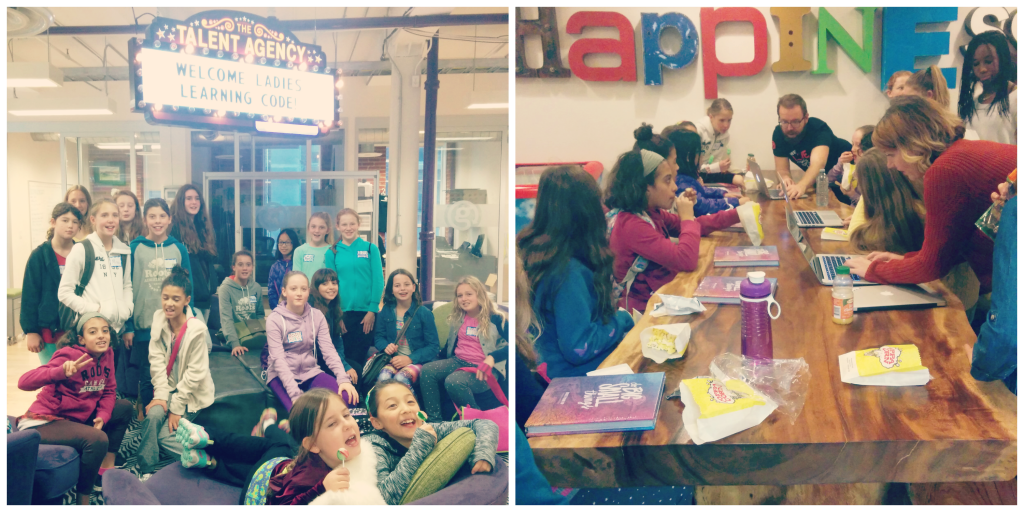 500px
500px is a social networking site that brings together a community of people that enjoy photography. After an introduction about what the company is all about, girls got to see the office space and saw the interesting things the employees do, from coding to design development!
Girls were also given a mission: They were divided into small groups with a mentor, and were given a scavenger hunt list. Using phone cameras, girls snapped their way to taking pictures from the list, such as "the tallest employee" and a "bicycle"! 500px really brought the "community" atmosphere onto this fun and collaborative scavenger hunt!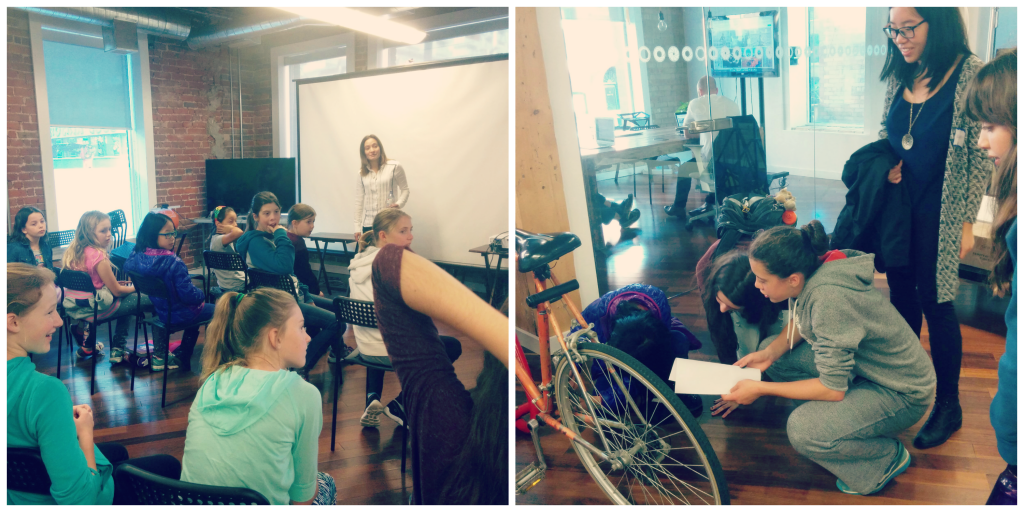 Nymi
There are more that meets the eye in Nymi, a wearable tech company that makes wristbands. Girls were surprised to see the amazing functionality that Nymi Bands do, as they can almost do anything! Girls learned that Nymi Bands are programmed to recognize your heart beat and can unlock personal items–such as a car and laptop! The girls not only tried on the Nymi Band, but also saw how it's made in the hardware room and through coding from the software.
The girls even met some engineers that explained to them what they did at Nymi, and were even quizzed on what they have learned (on which they aced!).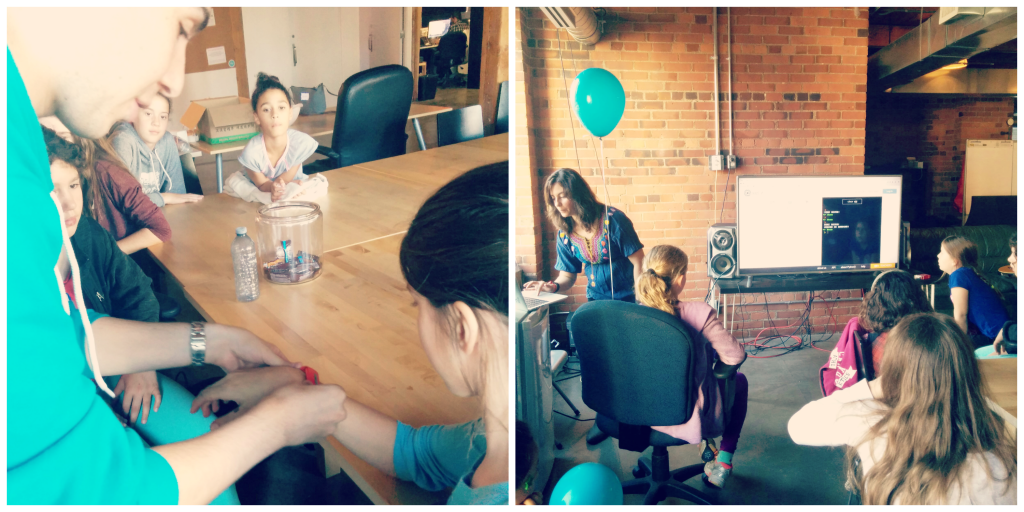 Pivotal Labs
The group of high schoolers kicked off the day fueling up with breakfast and meeting the rest of the group including our incredible mentors. The girls experienced their first ever team stand-up led by Boris Chan, Director of Pivotal Labs. Afterwards, Carolyn explained to them how stand-ups can really help to contribute to morale, energy and helps to ensure that everybody is on the same page with organizational goals. We were lucky enough to be at Pivotal Labs 3 times throughout the day, as they were were home base. Later on in the day Konrad, one of Pivotal's engineers walked our group through loops, conditional statements and other basic programming concepts – by teaching us how to program the game of 'Sorry!'. Thanks for the Pivotal lunchboxes, Pivotal!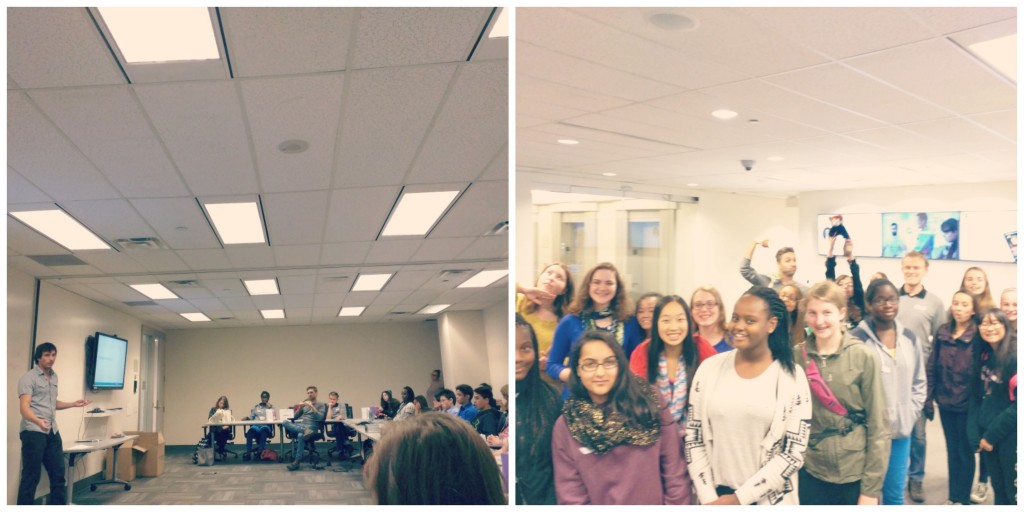 Salesforce
The teens had a thorough tour of the colourful Salesforce Toronto office. They learned about how CRMs and the SalesForce platform can play a large role in relationship management, had the opportunity to meet some of the staff and even got to see Salesforce's cool tech gadgets vending machine! They even got to spend some time in one of their brainstorming rooms and hang out on their beanbag chairs.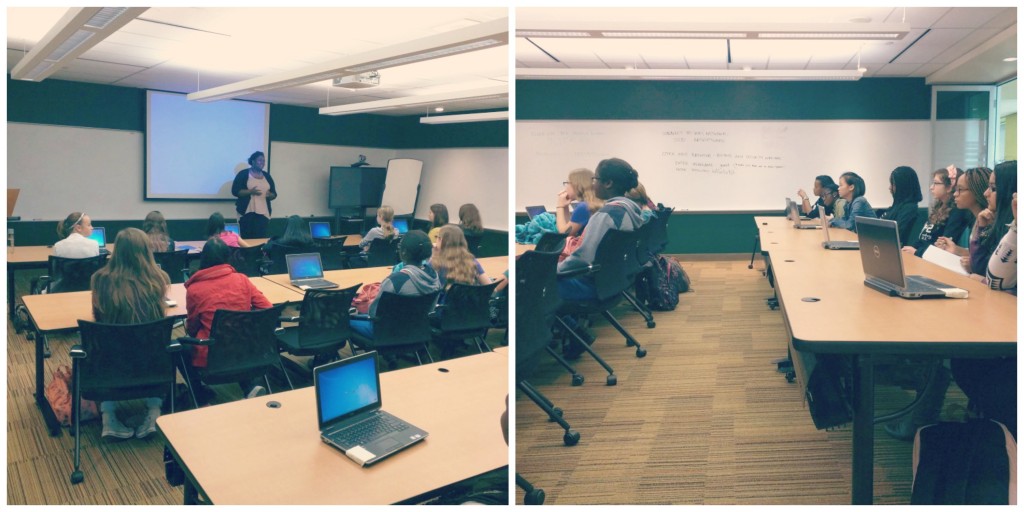 Telus
After we got a tour of the colourful Telus Digital Team's workspace, we landed in a room of tables clustered together with a gift bag at each seat. The team provided us with lovely Telus swag which of course included a Telus plush animal toy! After being presented with a web user experience challenge that the Telus Digital team have been facing, the girls got to work with trying to solve the problem by designing and presenting multiple alternative wireframes. The web and mobile developers that were sitting close by were impressed with some of the ideas presented! On our way out – the girls marked their name on the graffiti wall.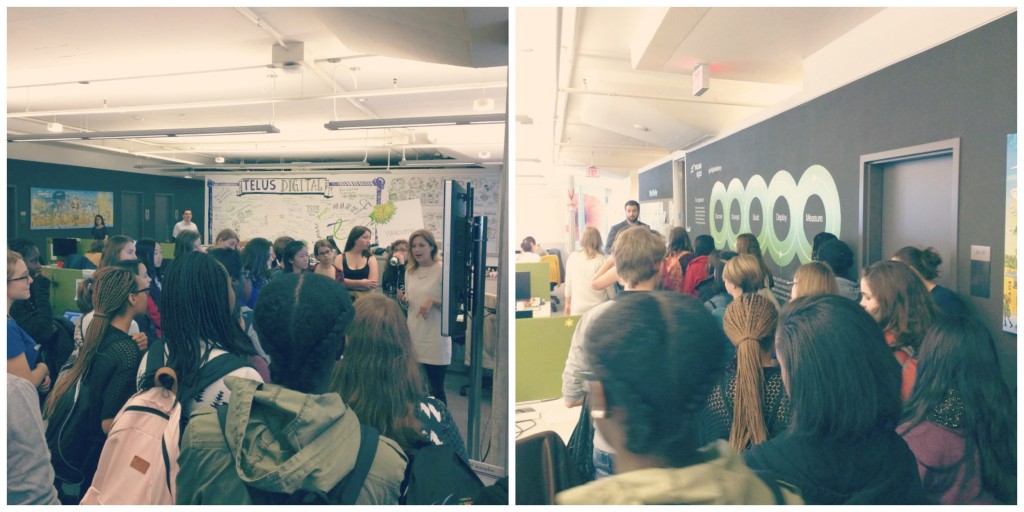 Amazon
The girls had the opportunity to visit Amazon's brand new office! In a room that overlooked our beautiful CN Tower, Rogers Centre and Lake Ontario – a few members of the digital team spend time with our group discussing some exciting things that will soon to be launched from Amazon! The girls split up in to groups and learned about sorting algorithms – and how it applies to web experiences on Amazon's platform. The session closed off with a very insightful discussion on personal and professional experiences in tech – in school and in the workplace – from the team of female Amazon-ers. Thanks, Amazon for the amazing swag bag.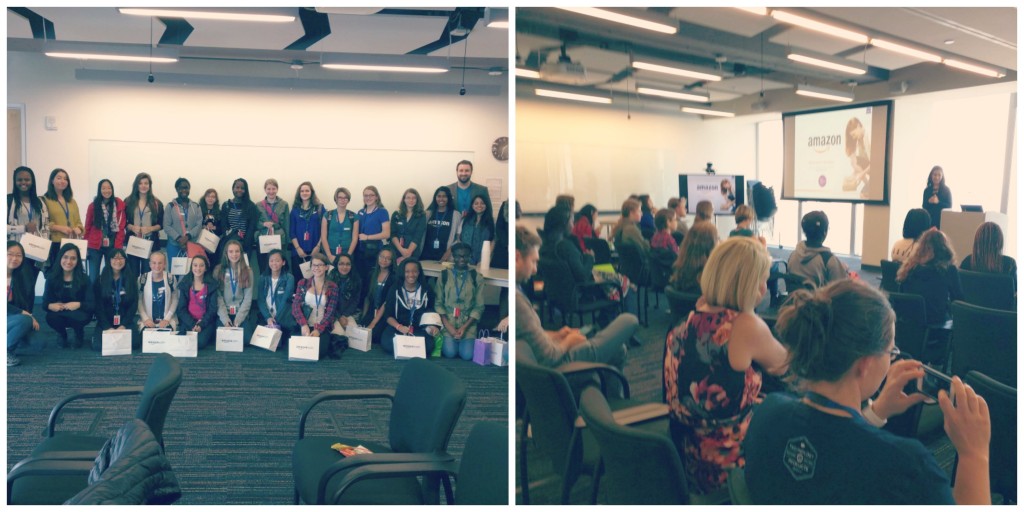 Wattpad
The team at Wattpad treated us with a tour, goodie bags and a panel discussion on women in technology. The Wattpad team shared their own personal and professional experiences through school and adulthood in the technology field and provided the girls with some great advice. We learned about Wattpad's product itself, and also had the opportunity to provide user experience feedback to the team!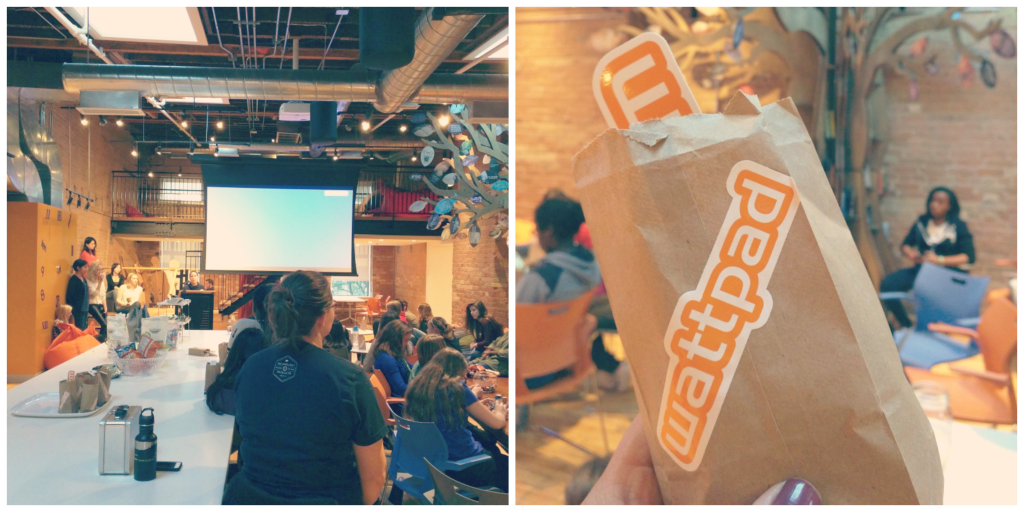 Deloitte
The team at Deloitte took us through their huge offices located in the heart of Toronto's financial district! Half of the girls got to sit in a large boardroom – while the other half spent their time in a Discovery Zone. We learned about creating unique experiences using a specifically designed and curated environment and interactive technologies and how Deloitte moved towards making an impact in the future of innovative technologies.