We're thrilled to announce that Ladies Learning Code is headed to Niagara!  In August of 2011, we hosted our first ever workshop in Toronto and today we are adding Niagara to the growing list of 29+ Chapters that include Vancouver, Ottawa, Halifax, London, Edmonton, Montreal and Calgary. We are thrilled to be able to provide the same beginner-friendly tech workshops that are so beloved by other communities to the folks of the Niagara region!
Since the Code Mobile is currently on the Southern Ontario leg of its journey, we thought we would bring it out for this special occasion!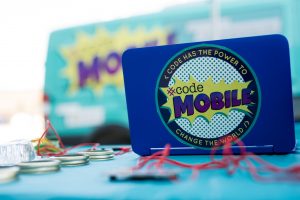 The Code Mobile's first stop on December 8th will be Welland's Diamond Trail Public School, followed by a visit to James Morden Public School in Niagara Falls. Chapter Lead Josie Faccini is particularly excited to have the launch take place as part of ihub and DSBN's Hour of Code initiative, as they are proven leaders in technology and education.
As for what's next, a series of workshops for adults will be offered in various communities and locations throughout 2017. We also intend to bring Girls Learning Code to Niagara providing workshops, camps, and afterschool programs for young girls.
A big thanks to Josie for her passionate efforts to make Ladies Learning Code programming available in her community!
Niagara Chapter Contact National Ladies Learning Code Contact
Josie Faccini
Niagara Chapter Lead
josie@ladieslearningcode.com
ladieslearningcode.com/chapters/niagara
---
If you're from Niagara or the surrounding area, we hope to see you this coming year! If you know anyone that is interested in hearing about future workshops in the city they can join our mailing list here. Know someone who knows HTML & CSS and might be interested in mentoring at this workshop? They can join our 'tech help' mailing list here!