Is it the cool projects that campers create? The new friends that they make..? Just ask our camper, Gia, who attended our Girls Learning Code Webmaking camp!
"Some of my favourite parts of coding camp was when me and my team did the css on our website earth heroes because I liked using all of our information and other elements and making it look beautiful.

I would definitely say another one of my favourite parts was our trip to Wattpad because I loved seeing how different and unique Wattpad's office was! It had lots of art work, quotes, and all around Wattpad was pictures of Wattpad users which I thought was very cool.

My number one favourite thing about Girls Learning Code camp was DEMO DAY because this is when all of our hard work pays off and I got to show my family me and my team's amazing earth heroes website."
During this camp session, Gia's team focused on global warming. Team Perl was very passionate about helping other kids understand the issue, and giving them practical ideas on what they can do to help. From first sketching their logo, to improving the UX (user experience) on their site, these girls learned a ton about web development and design, while focusing on a cause that they cared about!
See for yourself! Check out the Earth Heroes website, or watch the camp DEMOS (fwd to 6:10 for their team's presentation).
For more information about Girls Learning Code and Kids Learning Code camps, and to register for this summer, go to ladieslearningcode.com/camps.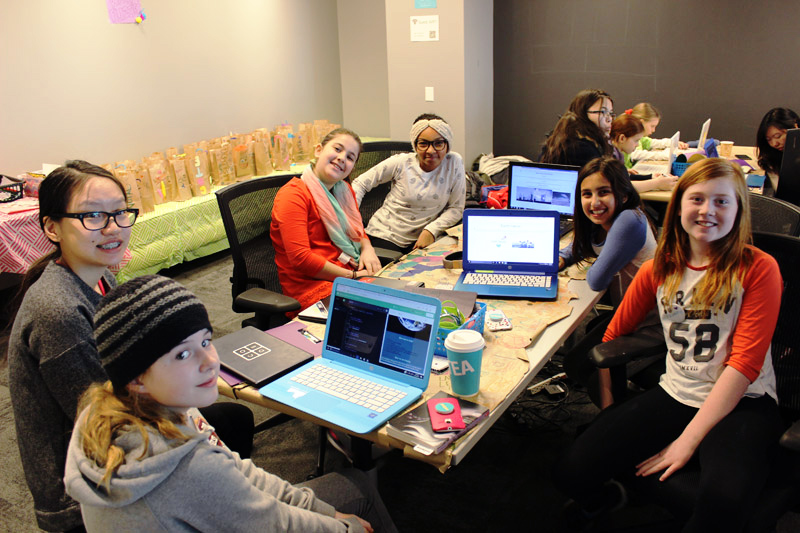 Team Perl (above)