Kids and mentors woke up on a Saturday morning and braved the early November snow this past weekend to take part in our first Toronto Kids Learning Code workshop for Circuits and Code. The workshop was led by the talented artist and designer Loretta Faveri (of Sonic Wear) and supported by our great mentors.
After providing brief introductions (including descriptions of how they would like to incorporate technology into their Halloween costumes), Loretta and the mentors dove straight into creating simple circuits. The kids quickly surprised themselves with how much they already knew by answering questions like: What is a battery? What is a circuit? What are conductors, insulators, and resistors? The kids were all eager to demonstrate their understanding and were able to make their bulbs light up by completing their simple circuits.
Next, we learned how to add a switch to the circuit, and Loretta explained how "dimmers" work. After taking a short break to stretch, the kids learned the difference between series and parallel circuits, while adding a second switch to their experiments. After successfully completing these circuits, the classroom lights were switched off so the kids could make art with their circuits and mini colourful lights.
After lunch, the kids got to become part of a human circuit and also powered a battery-less calculator with a lemon. Everyone was excited to have a turn holding the lemon. Before returning to the classroom, we played a few rounds of Simon Says. We then went back to circuits and we go to learn from (and play with) Makey Makey kits. This is when kids were able to experiment with conductive material and we learned that even Play-Doh could be part of a circuit.
Next, Loretta explained how to create soundscapes, and kids were able to create their own compositions using the laptop keyboards and Scratch. The kids had fun recording and making sounds with their own voices, as well as adding in cats meowing and other sounds on the program. Eventually it was time to wrap up, and the kids were eager to to show off what they had learned to their parents. The kids were able to clearly explain what they had learned and answer some of Loretta's more challenging questions.
Overall, this workshop was a great success and, most importantly, the kids seemed to be having a fun time learning new technological skills. We look forward to hosting this workshop again in the future, and we want to thank Loretta, the mentors, and the creative kids who made our first Circuits and Code workshop a great success!
Lead
Instructor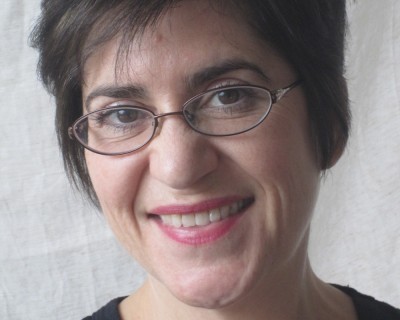 Artist and Founder at Sonic Wear
Tell us a little about yourself!
"Loretta Faveri is an emerging Canadian artist and founder of Sonicwear. While studying fibre arts at OCAD University, she took a course in wearable technology. When she discovered that she could turn body movement into sound, her days as a musician and dancer resurfaced to inspire a vision, "I want to turn all your bodies into moving musical instruments". This vision led to a series of research projects that not only used dancers to explore movement and sound, but also showed how this innovative technology could be commercialized. With the assistance of OCADU's Social Body Lab and the Imagination Catalyst, Loretta founded Sonicwear, the design studio that developed SoMo and the SoMo Movement Workshop. The SoMo Workshop is designed for creative movers and music makers who seek a safe, non-judgmental environment where their creativity can be explored. While wearing SoMo, the movement-tracking device that turns their body movement into sound, participants can work collaboratively to build a composition of both movement and music while gaining a sense of creative and physical well being."