Technology surrounds us and is a part of everything we do. With technology we are able to communicate to one another without saying a word. Kate Hartman, Professor of Wearable and Mobile Technology at OCAD, is interested in just that. Kate Hartman is in interested in developing clothing that will extend the wearer's non-verbal communication. The possibility of such clothing is an example of wearable technology.
Kate Hartman is a professor, 2011 TED Talk speaker, and now an author as well. With her newly published book Make: Wearable Electronics, Kate wants to share the possibilities of wearable technology with the world.
Make: Wearable Electronics focuses on helping its readers create interfaces that live on the body. The book is filled with an introduction to the tools, materials and techniques needed to be a wearable technology creator, as well as how-to tutorials on creating your own wearable technology.
Here is Kate Hartman on her new book and her hope for the future of wearables.
What can readers expect to find in Make: Wearable Electronics?
It's about wearable electronics. It's all about how to actually create circuits in your clothing. I have been teaching in this space [OCAD University] for probably about six years and so it is pretty much a collection of everything I have learned and has a lot of the stuff I am teaching. There wasn't a book that was quite what I needed for a textbook, so I wrote one for myself.
What is it like being a female in the wearable electronics industry?
It's great. It is really neat. It is an awesome space to work in because there are so many strong and interesting women who are doing great things. It has been a really good entry point in terms of technology. I was at Maker Faire New York last week and it was really fun just to talk to… a lot of adolescent girls, actually. It was neat to see them just starting the process and I hope it can act as a resource for a lot of different age groups.
You have been working with wearable electronics for some time now. How has it been witnessing the advances over the last few years?
I think one thing that is interesting right now, is the average person better understands that wearable technology is a thing. When I first started working on this, people thought it was a little weird. Now it is hitting the newspapers. It is hitting the media outlets. Now it's starting to enter the public sphere. Now we are seeing it in the form of consumer wearable gadgets. In the future we might start seeing it as entering the clothing realm.
Where do you hope to see consumer wearable gadgets be in the future?
I am really interested in working on clothing that can respond in emotional exchange and that can extend our nonverbal body language. That is some of the stuff I have been working on recently in the lab. Yeah, just sensitive clothing in the way that people can be sensitive is an interesting prospect.
What is the main thing you think people should take away from the advancements in wearable technology?
I think it is a really important time for people to think both creatively and critically about wearable technology because this is a very formative time. It's a great time to be making in this space because it allows people to get under the hood and actually think about the implications for what kind of effects this technology will have on their lives.
Kate's book is available for purchase online.
Mentors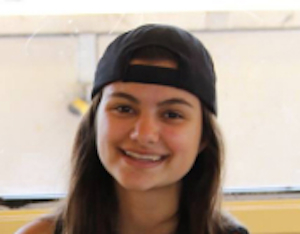 Alexandria McLean
Camp Mentor at Girls Learning Code
What are you passionate about?
""As a Radio and Television student I have a passion for social media, popular culture and...reality television. I love to travel, go to concerts, and co-host, produce and operate the audio board on my own online radio show at my university.""
Why did you get involved with Ladies Learning Code?
""With technology being all around us, I want to show and inspire others to see the endless possibilities it has. Growing up I would spend my free time learning about different editing software using online tutorials. I want to pass the knowledge I have on to others. I want to show others that it is okay to be a computer geek.""