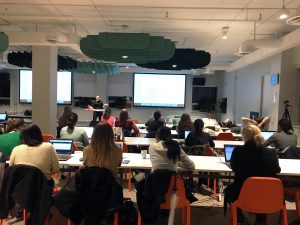 We just wrapped our 4th Digital Skills for Beginners cohort in Toronto! First of all, where has the time gone? And second, we need to give a round of applause to all the great individuals and organizations involved in making the program possible.
To our amazing, energetic and motivated Digital Skills alumni, congratulations, it was no easy feat and we are so proud of you! Special thanks go to our fearless lead instructor, Danielle Webb, who was a fountain of information and wonderful cheerleader throughout the program. And, of course, we want to send all the thanks in the world to our amazing host, Influitive! Thank you for welcoming us into your beautiful space each and every week. And last but not least, thank you to all our wonderful mentors — and to Katya Bovykina, our SEO/SEM guest instructor!
The Digital Skills for Beginners Program is unique to Ladies Learning Code and offers a 7-week intensive program for learners with varying levels of coding and digital knowledge. By covering a wide range of subjects, Digital Skills gives learners an introduction to HTML and CSS, Web design, JavaScript, jQuery, SEO, SEM, WordPress & CMS, UX/UI Google Forms & Sheets and more.
With the hands-on, social and collaborative learning approach we're known and loved for, each week learners dived into these subjects by completing exercises and code-alongs. Week-by-week, their websites came to life.
After getting to know this cohort's participants, it was clear that everyone had very different reasons for wanting to gain these new skills. From wanting to learn the basics of coding in a group environment, to creating a website for a business idea, to laying the foundation for a career change, this program gives participants the opportunity explore their passions and learn directly from industry leading designers and developers.
"Before I took these courses I thought that working in STEM was unattainable, but taking these courses has changed my mind," said Corey, a learner from this cohort. "The environment is great, and the mentors have taken the same journey as the students. It makes it feel more attainable."
Let's face it, learning a new skill on your own can be an intimidating task, but students like Michelle said that anyone can join the Part-Time Program, regardless of their previous experience. Many learners were inspired by all the new subjects they were exposed to and plan to continue exploring new subjects in this field. This gives us all the feels!
Intrigued? Keen to take the course yourself? We are now accepting applications for our Spring 2017 cohort! The course will run every Tuesday and Thursday from May 9th to June 22nd, 6:30pm – 9:00pm. And the best news yet, we are so lucky to be hosted at Scotiabank's Digital Factory! You are going to love this space!
To apply for the Digital Skills program, click here to find out more and access the application. This program fills up every year so we encourage you to apply early.
This post was written with Val Maloney, a Toronto-based writer and editor.