This past Sunday in Toronto's Trinity Bellwoods Park, Ladies Learning Code hosted the official kick-off party for its code:mobile cross-country tour, complete with maker sessions, robot demos and cotton candy.
What is the code:mobile? It's Canada's first travelling computer lab: a refurbished Dodge Sprinter van that has been turned into a mobile computer classroom with the support of Microsoft Canada's YouthSpark initiative.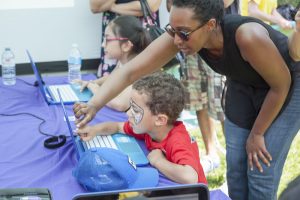 Throughout the summer of 2016, the code:mobile tour will visit over 58 communities across Canada with the goal of teaching 10,000 kids the basics of coding. The code:mobile will be visiting schools, summer camps and community centres, teaching kids at each stop how to work with Scratch, a highly-accessible introductory coding program.
Melissa Sariffodeen, Co-Executive Director at Ladies Learning Code, says the idea for the code:mobile came after she took a personal roadtrip, and mentioned in passing to some of her colleagues and partners how great it would be to take coding on the road in the same way.
"You can't be what you can't see," says Sariffodeen. "The code:mobile is so important because of the reach it has. We're going to expose 10,000 kids to code across Canada and give them the chance to see how powerful technology
can be and that they can create it too!"
The code:mobile will be stopping in major Canadian cities over the summer, but, perhaps more importantly, it will also stopping in smaller communities where there isn't a Ladies Learning Code chapter or access to technology resources like there are in more urban centres. Tess Kuramoto, Operations Lead for the code:mobile, also notes that Telus has outfitted the van with a wifi hotspot so that internet-enabled workshops can happen even in rural locations that are underserved by internet access, or in venues that don't have wifi.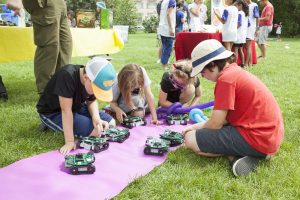 The ultimate goal of the code:mobile and of Ladies Learning Code as a whole, says Nicole Bélanger, Director of Community Development for Ladies Learning Code, is to empower Canadians to see themselves as builders, and not just consumers, of technology. "It's quite possibly our most ambitious project to date," she says of the tour.
"Canadians need the background to know how the digital world works, even if they don't want to become developers," says Vanessa Doucet-Roche, Tour Manager for the code:mobile.
In addition to getting Canadian kids involved with coding, the code:mobile tour will also serve as the launch pad for the organization's new Teachers Learning Code iniative, a program Ladies Learning Code is launching in partnership with Scotiabank to help empower traditional and non-traditional educators to keep teaching coding to kids in their communities.
Follow the code:mobile online (and request it to stop in your area!) at Codemobile.rocks and on Instagram @thecodemobile.
Val Maloney is a Toronto-based editor, content creator and aspiring coder.
Images by Kevin Cordick